Investment Signals in a Magazine Cover
The magazine cover story for a general news magazine can serve as a contrary investment indicator.
by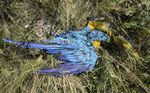 One of the more infamous and misunderstood market signals is the magazine-cover indicator. Created by Paul Macrae Montgomery, this contrary indicator essentially tells us when some investment theme or fad has reached a crescendo. The thinking goes that by the time the editors of Time find out about some hot investing trend, it is all over but the crying.