Millennials Are Living 'The Walking Dead'
No faith in government, no optimism about the future, no trust in other people.  That's what we've bequeathed to the young.
by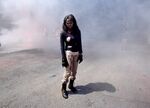 Time magazine this week has a big cover feature speculating on why "The Walking Dead," just back for its fifth season on AMC, remains so popular.  With more than 17 million viewers, the zombie-show's premiere on Sunday easily won the night.