Private Companies Are Driving China's Growth
The prevailing image of state capitalism in China is dated and wrong. As a new book demonstrates, private companies are now the country's main engine of economic growth.
by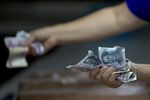 In China, the conventional wisdom holds, state-owned enterprises dominate the economy, private companies are often starved for credit, and the central government exerts substantial influence.