Mumbai Needs a Real Mayor
Mumbai's citizens vote in crucial statewide polls on Wednesday. But what they really need is an election for mayor.
by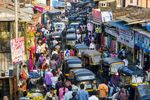 Today, the nearly 20 million residents of Mumbai, India's largest and richest city, will vote to elect a new government -- not for their city but for the western Indian state of Maharashtra. Mumbai's economy is the main reason the state is India's richest: At $90 billion, the city's annual gross domestic product accounts for half of the state's.