How States Can Be Smart About Pot
How voters in Oregon, Alaska and Washington, D.C., can separate hype from hemp on marijuana-legalization measures this year.  
by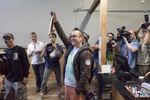 Colorado and Washington state knew they were jumping into the unknown when voters legalized recreational marijuana two years ago. They just didn't know the half of it. But thanks to what we've learned from the two pioneering states, it is now easier for those that follow to separate hype from hemp.