U.K. Cities Need Devolution, Too
The U.K.'s challenge is to promote city-led growth beyond London. Devolution would help.
by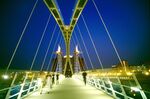 Almost exactly a year ago, I wrote an article for Bloomberg View about the importance of cities worldwide in promoting economic growth. I was about to embark on a project in the U.K. -- leading the independent City Growth Commission, supported by the Royal Society of Arts -- which is now winding up. Later this month, we'll publish our final report and recommendations.
For much of the past 12 months, I've traveled around the U.K.'s great cities, discovering or rediscovering their rich diversity and depth. Visiting Glasgow just after the Scottish referendum was especially interesting. That city, unlike Scotland as a whole, voted for independence. Yet Glasgow poses the question, What is the right locus of independence -- state, region or town?
Glasgow is the fourth-largest metro area in the U.K. outside of London (after Greater Manchester, West Yorkshire and the West Midlands). It's easy to see why its citizens might want more say in their own affairs, and that feeling isn't confined to Scotland's biggest city. The referendum has changed the character of this discussion all across the U.K. London, after all, is bigger than all of Scotland in population and output. If Scotland is going to get more devolved powers -- "devo max," as it's called -- why not London, too? Why not Manchester? Leaders of smaller cities such as Carlisle and Peterborough have asked me: What about us?
There's plenty of evidence that cities are the most powerful engines of growth almost everywhere: Beijing and Shanghai in China; Los Angeles and New York in the U.S.; Seoul in South Korea; Lagos in Nigeria -- I could go on. In the U.K., London's dominance just keeps increasing: It's the only British city big enough to figure among the world's largest. The question is, Can city-based growth also be spurred at smaller scales?
Previous initiatives to restore prosperity in cities that had done well in Britain's great industrial era had limited success. They relied too much on state subsidies and tax incentives, which proved ineffective; in any case, such measures are now restricted by European Union rules. Seeking a more radical approach, we gave a lot of thought to the concept of agglomeration.
Unconvinced by the popular notion that London's economy is too much of a good thing -- and maybe a bubble, at that -- we asked whether its advantages of scale could also be exploited elsewhere. Many of Britain's 15 biggest metropolitan areas (those with populations in excess of 500,000) are close together. For instance, Liverpool, Leeds and Sheffield all lie within 40 miles of the center of Manchester. What if "ManSheffLeedsPool" could be encouraged to develop as a single contiguous area -- one with a population of more than 8 million, about the same as London?
This needn't mean treating them as a single administrative or political unit for all purposes. But steps to build state-of-the-art connectivity among them could unleash the potential of consumers and producers in large numbers, and spur greater economic dynamism than they've shown up to now. Plans are afoot. Chancellor of the Exchequer George Osborne has proposed a "Northern Powerhouse." A "One North" advanced train system is under discussion. Leaders of the West Midlands and their close neighbors are talking about a "Midlands Connect" high-speed rail system.
If people in Greater London think nothing of traveling from Richmond to Stratford, then people in other urban clusters might do the same. And the same powerful forces of urban vibrancy might then be released.
Universities are another focus. Again, London (along with Oxford and Cambridge) dominates, though not to the exclusion of other regions. Universities are responsible for close to 10 percent of employment in the U.K.'s metro areas -- and their graduates tend to get good jobs. Efforts to boost the local economic role of universities should be a priority. The aim should be to retain the best and the brightest, to seed new companies and jobs as they graduate, and deflect them from jumping on a plane to go back home overseas or on a train down to London.
In themselves, these ideas don't require highly devolved government. However, the U.K. is so needlessly centralized that some dispersal of decisions on taxes and spending would help the best-run cities to do better. We question, in fact, whether some central-government departments need to exist at all: Local needs are often too specific for Whitehall to deal with them adequately.
Ambitious metro areas should be bold and demand enough decision-making power to put their best ideas into effect. The Scots voted against full independence, but they've demanded -- and will receive -- new powers of self-determination. It's an example many of Britain's cities should follow.
This column does not necessarily reflect the opinion of Bloomberg View's editorial board or Bloomberg LP, its owners and investors.