I'm Going to Africa, and I Won't Get Ebola
It would be a shame if all the panic over Ebola and our confusion about geography kept families from visiting Africa.
by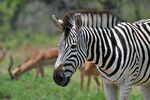 When I tell friends I'm flying to Africa soon for a vacation with my husband and our young daughter, they react in one of two ways: elation (trip of a lifetime!) or horror (Ebola!).