What Tattoos Tell Us About the Economy
The popularity of tattoos continues to rise, especially among certain U.S. demographics. What does that say about the U.S. economy and Americans' expectations?
by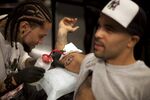 Tattoos have long since become commonplace in the U.S.: Forty percent of households now include someone with one, according to a recent survey, up from 21 percent in 1999. Apart from their fashionability, does this tell us anything about America?