So Why Did Apple Buy Beats?
Apple is clearly not betting on the Beats Music streaming service it acquired five months ago as part of Beats Electronics. So what was that deal about?
by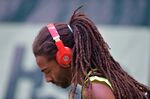 After the Beats Music streaming service was ignored during Apple's major new product presentation earlier this month, it was only a matter of time before someone would report that Apple is about to axe it. TechCrunch did it yesterday. Despite Apple's rote and uninformative denial, it's clear four months after Apple's acquisition of Beats Electronics that the company didn't pay $3 billion just for a bunch of curated playlists and a nice-looking app.