Germany's Green Energy Is an Expensive Success
Germany's policy of switching to clean energy looks like a failure on the surface, but it has succeeded in changing people's thinking for the future.
by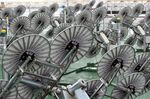 It's easy to declare Germany's ambitious policy of moving to clean energy from fossil fuels, while at the same time abandoning nuclear power, a failure. After all, the country burns more coal than five years ago, has some of the highest household electricity bills in the developed world and will miss its 2020 greenhouse gas emission targets.