Gary Hart Was Never Going to Be President
Even without the Donna Rice scandal, he probably couldn't have beaten George H.W. Bush.
by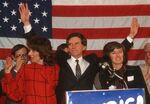 Judging from the excerpt from his new book on the Gary Hart/Donna Rice flap in the New York Times Magazine, Matt Bai has a great story to tell. He's a good reporter, and he has a nice scoop: He ferreted out the person who called the Miami Herald and sparked the story of supposed womanizing by the early frontrunner for the Democratic nomination, ultimately leading Hart to withdraw from the 1988 presidential race.