view
How to Overvet an Obama Nominee
The cost in time of excess vetting is significantly higher than the cost in time of losing a nomination fight.
by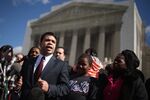 Here's the lesson from the latest case of poor vetting of an executive branch nominee: Do less checking, not more.
Debo Adegbile dropped his bid to head the Civil Rights Division of the Justice Department yesterday, months after his nomination was killed by filibuster in March. According to Adegbile, the opposition to his nomination -- including from several Democrats -- on the grounds that he had previously, as a lawyer, defended a cop-killer, came as a surprise to both him and the White House. If so, that's a clear case of poor vetting. Anyone with good political instincts should have been alert to the possibility that Adegbile's work on behalf of death-row inmate Mumia Abu-Jamal could blow up the nomination. And when the White House chose to move forward with the nomination anyway, it should have been prepared for what happened. 1
So why isn't the lesson of this defeat that President Barack Obama and future presidents should be even more careful when choosing personnel?
Think about the costs to Obama of getting this one wrong. He doesn't get his choice for the Civil Rights Division, but that probably was baked in even if the White House had done a better job of fighting for for Adegbile. And Obama has had to do without a confirmed nominee at Civil Rights for some time.
That's about it, and the last bit isn't a result of too little vetting; it's about too much. Adegbile was nominated in November 2013 to replace Thomas Perez, who was nominated for secretary of labor in March 2013 and confirmed in July. So there was eight months between the announcement there would be a vacancy and the nomination. Adegbile was defeated by filibuster in March 2014, though the White House and Senate Majority Leader Harry Reid vowed to fight on (but did nothing, at least publicly). The nominee has withdrawn, presumably after giving the White House some notice, but there's no new nominee. The process takes far too long. If Adegbile had been ready to go in March 2013, he could have been defeated when Perez was confirmed, and a replacement could have been selected in September 2013 and confirmed by the end of that year. Now it's unlikely anyone will be confirmed in 2014.
In other words, the cost in time of excess vetting is significantly higher than the cost in time of losing a nomination fight. Cut back the vetting, and presumably presidential administrations will miss more political danger in advance ... but even in those cases it's quite possible that replacement nominees can be confirmed quicker than it now takes to get an original nominee selected and confirmed.
As far as other damage, I don't see any. I don't monitor Fox News closely, but as far as I can tellAdegbile didn't become a significant controversy even among professional scandal-mongers and those who patronize them, much less the kind of issue that would actually affect elections. For the overwhelming majority of the public, it never happened. And if there were five times, or even 10 times as many failed nominations, they wouldn't matter either.
I can understand intense, risk-averse vetting for some sensitive national-security positions. And judges with lifetime appointments should be carefully checked (though probably not as carefully as they are now). But most presidential appointments, even very important ones, just don't need that kind of scrutiny. Reduce vetting for executive branch nominees now!

To contact the author on this story:
Jonathan Bernstein at jbernstein62@bloomberg.net
To contact the editor on this story:
Max Berley at mberley@bloomberg.net
Before it's here, it's on the Bloomberg Terminal.
LEARN MORE