From #Ferguson to #OfficerFriendly
The NYPD is getting precinct commanders to tweet with the public. This could be really good -- or really bad.
by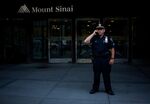 In the tiny town of Jun, Spain, (population: 3,000) meeting rooms in city hall have their own Twitter accounts. When residents want to reserve them, they send a direct message via Twitter; when it's time, the door to the room unlocks automatically in response to a tweet. Jun's mayor, Jose Antonio Rodriguez, says he coordinates with other public servants via Twitter. Residents routinely tweet about public services, and city hall answers. Every police officer in Jun has a Twitter handle displayed on his uniform.