Kids Who Quit Football Won't Quit the NFL
There are 30 million 'avid' female NFL fans. And none of them played a down of Pop Warner.
by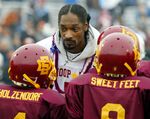 Football season's already upon us, like a Seahawks safety blitz, which means it's again time for the doomsayers to predict that the National Football League's popularity and TV ratings will eventually wane because of the increasing numbers of concussion-wary parents who won't let their children play youth football.