The Republican Obamacare Battle Plan for 2015
Republicans should try to improve Obamacare in 2015 by shifting power back to the states. They can focus on repealing it after Obama leaves office.
by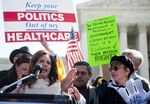 If Republicans capture control of both houses of Congress in November, they will have a golden opportunity to lay the groundwork for a market-based health-care overhaul -- a goal that can only be achieved after the next presidential election.

Repeal of Obamacare, and replacement of it with a complete set of conservative reforms, should remain Republicans' long-term aim. The danger is that they will squander the opportunity to make headway on useful changes to Obamacare in 2015, and instead spend the year consumed only with repealing the law, when such an outcome is impossible with Barack Obama as president for two more years.
QuickTake Health Insurance Exchanges
Public opinion suggests people are more interested in "fixing" Obamacare than in completely scrapping it; and by 2015, almost 25 million Americans will be relying on it for health coverage. Those are reasons Republicans should aim to reform or replace portions of the Affordable Care Act: Realistic changes can generate momentum for bigger changes to come.
They would be wise, in particular, to focus on policies that shift the authority, responsibility and resources for health care to the states. Conservative health-policy analyst Avik Roy has made meaningful contributions toward that end with a plan that he argues will "transcend" Obamacare while restoring fiscal sanity to the health-care system. In brief, Roy's plan does away with some of the federal regulation that drives up costs under Obamacare, disposes of the federal health-insurance exchange while promoting state-based exchanges, and proposes the first comprehensive overhaul of Medicaid since the program's creation in the 1960s.
At the heart of Roy's plan is an effort to empower the state-based exchanges. I don't believe that health-insurance exchanges are anathema to free-market thinking in and of themselves. It's true that Obamacare's exchanges leave much to be desired because they serve the dual functions of regulator and marketplace. But Roy is right that if the ACA's exchanges were to be deregulated (for example, by eliminating some of its highly prescriptive federal coverage mandates and modifying its restrictions on how health plans are priced), they would be far more acceptable. Roy points to several examples of successful market-oriented exchanges that predate Obamacare, including one in Utah that functions like a clearinghouse where individuals working for small businesses can choose among a wide variety of plans.
Although some conservatives argue that private-sector efforts to create health-insurance marketplaces (such as eHealthInsurance.com) obviate the need for state-run exchanges, there is no guarantee that such marketplaces will be available in every state. I would agree that a federally run exchange is problematic. But Roy focuses on promoting state-based marketplaces that return regulation to state authorities and are more responsive to the needs of their citizens. These state exchanges are also probably the most effective way of ensuring that any federal financial assistance for the low-income uninsured goes directly toward the purchase of health insurance.
The original sin of Obamacare was in wresting power away from states and vesting it in the federal government. Before the law, states were the primary locus of health-insurance regulation and bore significant responsibility for bolstering coverage for the low-income uninsured. The problem was that states lacked the financial resources to improve access to health care for the poor, and the federal Medicaid law often tied states' hands when they tried to craft solutions to cover more people.
To empower states, policy makers might want to focus on a potentially powerful provision contained in Section 1332 of the Affordable Care Act. This part of Obamacare allows a state that fashions its own health-care plan to waive, beginning in 2017, many requirements of the law (including its individual mandate) for five years -- so long as it can cover at least as many people as Obamacare with plans that are as comprehensive and affordable as those required under the law.
The problem is that the provision has been essentially neutered because the determination of whether a state meets these requirements is entirely in the hands of the Obama administration. Republicans looking to empower states would be wise to look at statutory changes that would remove some of the discretion from the administrative process and accelerate the date that the provision goes into effect.
At the end of the day, congressional Republicans have a chance to show they are prepared not just to oppose Obamacare but also to pass policies to help lower health-care costs, expand access to affordable private coverage and improve the system generally. All of these efforts should begin with the states. Taking this kind of action won't only help Republicans demonstrate that they can govern. It will also help them make the case for electing a Republican president in 2016.
This column does not necessarily reflect the opinion of Bloomberg View's editorial board or Bloomberg LP, its owners and investors.
To contact the author on this story:
Lanhee J Chen
To contact the editor on this story:
Katy Roberts at kroberts29@bloomberg.net
Before it's here, it's on the Bloomberg Terminal.
LEARN MORE