Detroit and Big Data Take on Blight
Detroit now has a map to its urban blight. The question now is whether the city has the heart to use the information to make hard choices about its future.
by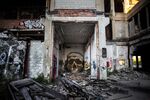 The urban blight that has been plaguing Detroit was, until very recently, made worse by a dearth of information about the problem. No one could tell how many buildings needed fixing or demolition, or how effectively city services were being delivered to them (or not). Today, thanks to the combined efforts of a scrappy small business, tech-savvy city leadership and substantial philanthropic support, the extent of the problem is clear.
The question now is whether Detroit has the heart to use the information to make hard choices about its future.
In the past, when the city foreclosed on properties for failure to pay back taxes, it had no sense of where those properties were clustered. The city would auction off the houses for the bargain-basement price of $500 each, but the auction was entirely undocumented, so neighbors were unaware of investment opportunities, big buyers were gaming the system, and, as often as not, arsonists would then burn the properties down. The result of this blind spot was lost population, lost revenue and even more blight.
Then along came Jerry Paffendorf, a San Francisco transplant, who saw what was needed. His company, Loveland Technologies, started mapping all the tax-foreclosed and auctioned properties. Impressed with Paffendorf's zeal, the city's Blight Task Force, established by President Barack Obama and funded by foundations and the state Housing Development Authority, hired his team to visit every property in the city. That led to MotorCityMapping.org, the first user-friendly collection of information about all the attributes of every property in Detroit -- including photographs.
Paffendorf calls this map a "scan of the genome of the city." It shows more than 84,000 blighted structures and vacant lots; in eight neighborhoods, crime, fires and other torments have led to the abandonment of more than a third of houses and businesses. To demolish all those houses, as recommended by the Blight Task Force, will cost almost $2 billion. Still more money will then be needed to repurpose the sites.
The city of Detroit's chief information officer, Beth Niblock, is integrating all this data into city operations. Now, the department responsible for mowing vacant lots can better prioritize its efforts, and the city's Land Bank -- responsible for the 100,000 "accidentally publicly owned" properties in Detroit -- can make informed decisions about how to use them. Some will need demolishing or environmental cleanup; many vacant lots can be gardened by community groups.
Maps showing major civic problems -- such as those facing Detroit -- can be surprisingly helpful: They allow people on opposing sides of an issue to look at the same facts, and that can lower the heat of their arguments. And people can use maps for their own distinct purposes; Detroit wants its blight map to become a public data system that citizens can use as a basis for asking questions and reporting information. Most important, people make progress on difficult issues only when they can see them. Now that Detroit's problem with failing properties has become visible, the city can solve it.
Several years ago, then-Mayor Dave Bing made the controversial suggestion that Detroit should concentrate its resources on the parts of town that had not yet tipped into blight. Now that the city knows precisely where its problems are, it can set much bigger goals.
This column does not necessarily reflect the opinion of Bloomberg View's editorial board or Bloomberg LP, its owners and investors.