European Austerity Is a Myth
European governments are spending more as a share of output than they did in 2007. Their talk of stringent austerity measures is disingenuous.
by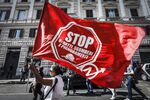 Just as France's and Italy's poor economic results prompt the leaders of the euro area's second and third biggest economies to step up their fight against fiscal austerity, it might be appropriate to ask whether they even know what that is. Government spending in the European Union, and in the euro zone in particular, is now significantly higher than before the 2008 financial crisis.