Labor Won the Baseball Commissioner Fight
In an electoral process that would make Frank Underwood proud, Major League Baseball's 30 owners just chose their sport's new leader.
by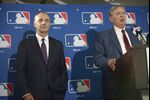 In an electoral process that would make Frank Underwood proud, Major League Baseball's 30 owners just chose their sport's new leader.
Rob Manfred, MLB's current chief operating officer, will succeed Commissioner Bud Selig after he retires at the end of this season. As Newsday's David Lennon notes, the selection process in baseball is a much bigger spectacle than in other sports, with all the infighting and backroom dealings of a Republican primary. But while Lennon wishes things were much simpler, I welcome the display for giving us an inside look at the priorities and mindset of a group of diverse owners who disagree over almost everything.
Whenever anybody ever dares to question the state of baseball, especially among younger fans, Selig usually whips out a number of go-to counterpoints. One is the resounding success of MLB Advanced Media, which operates the league's Web and mobile content and is estimated to see $800 million in revenue this year. Sure, half of all baseball fans were born before Alaska was a state, but baseball is and has been blowing away the other sports in the quality and success of its mobile apps and web streaming, a fact Selig presents as proof of its potential among millennials.
That's what made Bob Bowman, who runs MLB Advanced Media, the most intriguing candidate to me -- serious candidate, that is. I felt he could build out the innovative vision from the league's media properties to the broader issues within the sport. But when Bowman was left off the list of final candidates, what emerged was a battle between one group of owners desiring stability and another demanding a larger piece of the pie.
As Selig's right-hand man, Manfred had seemed like a shoo-in -- until Red Sox part-owner Tom Werner presented a viable alternative to those owners unsatisfied with the current state of labor relations. Leading the charge was White Sox owner and longtime Selig nemesis Jerry Reinsdorf, whose support of Werner seemed to be less about getting him elected than blocking votes for Manfred. That's because Manfred would indubitably continue another aspect of Selig's legacy most commonly used to extoll baseball's health: 20 years of labor peace.
Since the disastrous 1994 strike, Selig and Manfred have maintained unity within the sport mostly by compromising with the players' union more than any other pro sports league has. It's no secret that the MLBPA isn't just the strongest union in sports -- it's maybe the strongest union in America. While some owners, including Reinsdorf, see the players' collective strength as a referendum on their individual weakness, others recognized that the true path to baseball's future success and prosperity is one of stability.
Yes, the players have emerged largely victorious from every round of CBA negotiations in the past two decades. But it's not like the owners haven't made a boatload of cash themselves. Revenue has grown more than 320 percent, from $1.9 billion in pre-strike 1993 to more than $8 billion today. Individual teams are growing in value even faster than NFL teams. It's no wonder that the richest team in baseball was among those pushing for Manfred. "The biggest thing is always labor peace," Yankees owner Hal Steinbrenner said. "That's never going to change."
Labor peace has brought higher guaranteed contracts, but it's also brought the moderate revenue sharing measures that help free-market baseball boast the highest level of parity among professional sports. As Jayson Stark notes, all but two MLB teams have had a winning season in the last five years. The Yankees, the sports world's very own go-to one-percent, have only appeared in -- and won -- one of the last 10 World Series. And 16 different teams have won it all in the last 25 years.
So Manfred wasn't the most exciting choice. He's par for what has been a very lush course for players and owners alike during Selig's tenure. His election demonstrates what most owners know, and most executives should learn: Strong unions are good for business. Baseball owners didn't vote against their own interests -- they elected the guy who will increase their slice by growing the pie as a whole.
This column does not necessarily reflect the opinion of Bloomberg View's editorial board or Bloomberg LP, its owners and investors.