College Sports Has a 1 Percent Problem
The vast majority of the 85 scholarship football players and 13 basketball players at each Power Five school are not "value creators." 
by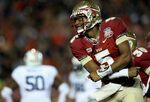 As we slide down the slippery slope toward paying college athletes, consider this: There are approximately 420,000 students playing college sports, according to the National Collegiate Athletic Association. Included are the 6,370 scholarship athletes who play football or men's basketball in one of the"Power Five" conferences that have now voted to shrug off many of the constraints of the NCAA.

But if the issue is really about handing over the value to the "value creators," as some have put it, then we're not talking about 6,370 deserving athletes. We're talking about a very small fraction thereof.
Assuming cynicism hasn't completely won the day, let's stipulate that:
1) There's still economic value in having a free ride to college -- say, $30,000 a year on average. There are others perks, too: all-you-can-eat training tables, academic tutors, free trips on charter planes, athletic dorms, etc. But for the sake of simplicity, let's say that the value of a four-year education for the 85 scholarship football players and 13 basketball players at each of these 65 schools is $120,000; and
2) it's still fun to be on a sports team -- it's something most 18- and 19-year-olds would kill to do.
Now, there is no disputing that certain football and basketball players create more value than others. These are the team stars: the ones who are featured on the broadcasts, on the school's promotional materials and during March Madness. The ones such as Ed O'Bannon, who led my alma mater, UCLA, to a national championship in 1995, with an explosive, unorthodox left-handed style that was later captured in video games by EA Sports -- without any compensation to O'Bannon.
Yet, the vast majority of the 85 scholarship football players and 13 basketball players each year are not O'Bannons. They are not distinctive. They are, in many cases, fungible. For these players, it's not such a bad deal -- $120,000 of free college and the privileges that come with membership on the team. The fun.
So who counts as a value creator? Hardly scientific, but let's say that it's 22 starting players on each football team and the five starters on each basketball team. If so, then the ultra-reformists are talking about rooting hypocrisy out of a system, changing it forever -- causing system-wide ripple effects -- based on no more than 1,755 players: about four-tenths of 1 percent of all 420,000 student-athletes.
No matter which side you choose in this debate, it's not outlandish to argue the economic sacrifices of these few are necessary for what sports provide to the remaining 99.6 percent.
This is not to say there shouldn't be meaningful reform of certain rules. A player shouldn't have to supplement his "free" ride out of pocket; a small stipend makes sense. Insurance policies need to be strengthened. And a scholarship athlete from an at-need home shouldn't have to rely on a booster to surreptitiously arrange for his family to fly in for the Big Game -- there should be institutional support for in-season trips.
But anything more than these type of modest fixes, and we're talking about changing the very nature of college athletics in ways nobody can predict.
Just last week, for example, ESPN paid big money for the rights to broadcast several hours of valuable athletic competition, featuring school-age players from all across the world. And to think, the players on those Little League World Series teams didn't see a dime.

This column does not necessarily reflect the opinion of Bloomberg View's editorial board or Bloomberg LP, its owners and investors.