Expensive Hospitals Aren't Any Better
As spending growth in health care continues to decelerate, it's good to know that the trend can continue without lowering the quality of medical treatment. 
by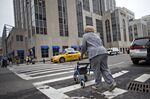 The good news about health-care spending continues. In the first nine months of this fiscal year, Medicare spending increased only 1.2 percent in nominal terms, and for 2014, it's now projected to be $1,000 lower per beneficiary than the Congressional Budget Office said it would be as recently as 2010. Even the Medicare trustees are starting to recognize that something big may be happening.
In evaluating the recent deceleration, however, a crucial question remains: Can slower cost growth continue without harming the quality of outcomes?
Jack Wennberg, emeritus professor of the Dartmouth Institute for Health Policy and Clinical Practice, has spent his career suggesting the answer is yes, because costs vary substantially across the U.S. in ways not correlated with quality. The Wennberg view, reflected in the ongoing work of the Dartmouth Atlas of Health Care, suggests we are on the "flat of the curve" for spending. Even though some level of health-care spending is beneficial to improve outcomes, we are already beyond that point in the U.S., so slowing cost growth need not hurt quality of care.
The Wennberg/Dartmouth argument has been challenged over the years -- including by research from Joseph Doyle and Jonathan Gruber of the Massachusetts Institute of Technology, John Graves of Vanderbilt University and Samuel Kleiner of Cornell University. The Doyle study was cleverly designed, taking advantage of the reality that patients who live very close to one another but straddle an ambulance-dispatch boundary tend to wind up at different hospitals. Living on one side or the other of a boundary street can be very close to being randomly assigned to a hospital. That allows researchers to compare what happens when similar patients are treated in high-cost and low-cost hospitals.
Doyle and team thus examined Medicare data on emergency patients from New York state and found that patients who were taken to higher-cost hospitals had noticeably lower one-year mortality rates than people taken to lower-cost hospitals.
One problem with the Doyle study, however -- as I have previously noted -- was that it included only emergency patients, who accounted for only about 5 percent of the admissions (and less than 10 percent of total costs) at the relevant hospitals. So it was not a body blow to the Dartmouth work; it merely showed that for certain types of emergency care, higher-cost hospitals seem to deliver better results -- and even then, only up to a point.
Now, Doyle and colleagues have completed a new study. Again using the pattern of ambulance company assignments to compare outcomes, Doyle 2 found a strong correlation between spending on in-patient stays and patient survival. This time, though, the researchers expanded their analysis to other types of spending, and they found a negative relationship between spending after hospital discharge and survival rates -- great enough to cancel out the positive relationship between hospital spending and survival. Ultimately, Doyle 2 found "no association between total one-year spending and patient outcomes."
The new Doyle view is consistent with the Wennberg thesis and with research from the Institute of Medicine indicating that the substantial variation in Medicare costs across the U.S. cannot reliably be linked to variation in quality. The institute's report also suggested the principal driver of such variation was not hospitals but rather post-acute-care services -- such as skilled nursing facilities, rehabilitation facilities, home-health services and hospices. Were it not for this regional variation in post-acute care, the overall Medicare spending variation would be 73 percent less. It was precisely these services where Doyle and team found a negative association between spending and outcomes.
Doyle 2 and the Institute of Medicine report underscore the potential to achieve substantial savings in Medicare without harming beneficiaries -- even if most of those opportunities exist in post-acute settings. And that view seems conservative to me, given that most hospital managers I speak with say they can achieve meaningful savings within their own walls without harming quality.
What's needed is a payment system that provides stronger financial incentives to pursue better value -- and squeezes costs where possible without worsening care. To reap the benefits of the ongoing deceleration in health costs, the U.S. health-care system needs a clearer path away from fee-for-service payment and toward fee-for-value.
To contact the author on this story:
Peter R Orszag at porszag3@bloomberg.net
To contact the editor on this story:
Mary Duenwald at mduenwald@bloomberg.net
Before it's here, it's on the Bloomberg Terminal.
LEARN MORE