Levine on Wall Street: Mostly Fraud
Seriously this goes: Russia sanctions, TARP fraud, general fraud, broker conflicts of interest, bunk science, low-income banking, bank capital, insurance fraud, business schools.
by
There might be serious EU sanctions on Russia.
One proposal would "ban all Europeans from purchasing any new debt or stock issued by Russia's largest banks," the ones controlled by the state. On the other hand Russian sovereign bonds would not be banned, "out of fear the Kremlin could retaliate by ordering an end to Russian purchases of EU government debt." Obviously it's a lot more satisfying to sanction little countries with whom you don't have any mutual trade dependence.
Jesse Litvak got two years in prison.

For making up exciting stories about how hard he was working to buy mortgage bonds, in order to inflate the price at which he sold those bonds to his customers. That's considerably better than the nine years prosecutors wanted to give him. Said the judge:
"You lied," Hall told Litvak today. "Maybe that's what people do every day on Wall Street. That doesn't make it legal. If anyone on Wall Street thinks it's ok to lie, if any message gets out from this trial, I hope that message gets out."
There's actually some pretty straightforward sense in which, if it's what people do every day on Wall Street, then that does make it legal. Fraud isn't just about saying false words; it's about your counterparty relying on those words. Lots of salesmen say "you're my best client, I'd do anything for you," but enough of them say it that no one believes it. I go back and forth on the Litvak case though mostly I think it was a fair cop; if you explicitly tell people you've got a seller at 89.25 they're probably entitled to believe that you have a seller at 89.25. But the notion that it is a federal crime to lie, tout court, is crazy and terrifying. 1
Stay off the sucker list.
This is so sad and endlessly fascinating: It turns out that, if you're a con artist, your best bet is to go after people who've already been conned by someone else, because those are the people who are susceptible to conning. It's the triumph of hope over experience. So lists of victims are valuable to other con artists:
In 2010, a sham Nigerian website sought out victims of Bernard Madoff's Ponzi scheme, claiming to have found $1.3 billion of Madoff assets that would be distributed to victims if they would supply the claim numbers from their legal filings and copies of their most recent brokerage account statements.

And:
[I]n the view of criminals, the victim who has lost $10,000 in an energy scam has passed the test of being willing to write a large check to a stranger over the phone, making him a perfect choice.

Organize your life in such a way that you fail that test. In possibly related news, a lot of Americans think that a quarter pound is bigger than a third of a pound.
Brokers don't have to tell customers how much they get paid.
I sort of don't understand the theory behind the Finra proposal to require brokers to tell their customers about any signing bonus above $100,000 that they get for changing firms. I'm sure it's some sort of conflict-of-interest thing, but what particularly is the conflict? A signing bonus is nominally for moving firms, not for selling garbage or whatever. I guess the theory is that, if your broker tells you he's getting $5 million to switch firms and wants to take you with him, then that's a pretty good indication that you're paying too much to whichever brokerage you end up at? But I don't know that the customers think that way. Anyway Finra withdrew that proposal yesterday, so never mind, though they're working on re-proposing it.
Herbalife has some bunk science.
Vox took a look at Herbalife's science website and found that the evidence that Herbalife helps people lose weight boils down to a few uncontrolled short-term weird studies. This should not be a huge surprise; obviously there's not a magic powder that makes you skinny, come on. The bull argument for Herbalife -- made by John Hempton especially -- is that it works anyway: The social aspect of Herbalife's nutrition club, what Hempton calls the "cult of weight loss," is what provides the discipline for customers to lose weight, by eating less and drinking shakes and teas instead. Obviously though one could object to the business model of using a cult to sell a placebo.
Banks are banking the unbanked.
I suppose giving customers a demand account that costs $4.95 a month and doesn't let them write checks qualifies as an act of charity. I mean, that is not the bank account that I would want, but still good on Bank of America for offering it, since it does seem to be better than the alternatives that those customers would otherwise have had. (And "The product is not expected to make the bank any profit.")To get there Bank of America, as Bess Levin puts it, "started a sociology department":
As part of those efforts, Bank of America executives shadowed low-income families in four cities and asked them to create collages that showed how they felt about money. ... One of the collages Bank of America asked people to assemble, which hangs in its offices in Charlotte, N.C., features a glamorous woman with the words "want," "desire" and "resistance" written on her shoulder.

But nothing about check-writing, so I guess they figured it was okay to scrap that.
CoCo condors.

Here is an interesting paper from Kenjiro Hori and Jorge Martin Ceron about bank bail-in debt. Their claim is that new regulation that requires banks to have "bail-in" debt -- "contingent convertibles" that are written down or converted into stock if capital falls below certain levels -- creates agency costs by increasing the incentives of shareholders to prefer risky behavior. Here's a good graph: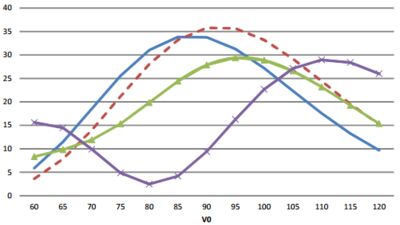 If you think of stock in a bank as an option on the assets of the bank (struck here at 90 percent of the value of the bank's assets: i.e., the bank is capitalized with 10 percent equity and 90 percent bail-in and regular debt), then that option's value will increase with the volatility of the value of those assets, that is, with the riskiness of the bank. These lines show the sensitivity of the value of the equity to the riskiness of the bank; one conclusion is that, for a well-capitalized bank, bail-in debt makes the equity more sensitive to volatility, meaning that shareholders (including executives of course) of a well-capitalized bank with bail-in debt will have more incentives to take lots of risks with their banks.
Death benefits.
Here is an amusing story about Fortress, the investment firm, which bought a bunch of life insurance policies on the secondary market and is now sad that the insurer, Phoenix Cos., won't pay them off. The reason is basically that there was a lot of fraud in issuing the policies. Fortress wants to be able to rely on the policies no matter what happened years ago when they were issued (and thinks Phoenix probably looked the other way at a lot of fraud when issuing the policies), while Phoenix doesn't think it should have to pay off fraudulent policies. I don't entirely get this though:
[Fortress] cited a $10 million Phoenix policy that covered Faye Keith Jolly, a Florida man. Hartford, Connecticut-based Phoenix had sued Jolly in 2008 for fraud, saying he falsely claimed to have more than $1 billion in assets, mostly in uncut emeralds recovered from a sunken ship.

Well but why would the pirate emeralds matter for the life insurance underwriting? And, for that matter, why would you buy a $10 million life insurance policy if you had $1 billion in assets?
Do you think the business-school graduate you work for is incompetent?

Probably, right? Here's some advice. And the Yale School of management is offering a $100 discount on MBA applications for low-income students, which does not really seem like that much of a discount.
Things happen.
What quarter is it? Goldman has expensive lawyers. Calpers is fed up with hedge funds. Here's a guide to the Argentina crisis, which might be useful over the next week. High-heeled bond traders. Puppy-filled workplaces. Cubicle workplaces. Full Communism. Giant fart machine pointed at France. Man avoids confrontation.
To contact the author on this story:
Matthew S Levine at mlevine51@bloomberg.net
To contact the editor on this story:
Toby Harshaw at tharshaw@bloomberg.net
Before it's here, it's on the Bloomberg Terminal.
LEARN MORE