One of These Nine Men Will Be Poker's Champ
The nine finalists for the World Series of Poker are a diverse group in all ways but one.
by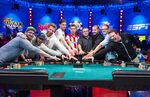 Baseball, which evolved in the U.S. Northeast around the same time poker was emerging along the lower Mississippi, is now played in dozens of countries, and most of its best players are from Latin America. Basketball, our other 19th-century sport, is even more popular globally.