Agony and Ecstasy of Poker's Amateurs
For all its complexities, high-stakes poker is still a game where amateurs can thrive.
by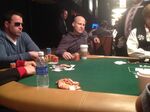 People enter the World Series of Poker for hundreds of reasons and raise the $10,000 buy-in for the Main Event in at least as many ways. The players who get the most media attention are naturally the pros -- and the occasional amateur -- hugging an eight-figure bundle of cash on ESPN.
Yet the majority of entrants are inspired amateurs living out the dream of competing for their favorite game's championship. Unless they're Paul Pierce or some other world-class athlete, they'll never have the chance to do that in a physical sport, but they can on the Rio casino's green baize.
They'll always be underdogs, but that doesn't mean they're dead money. Hundreds of them earn hefty pieces of the prize pool each year. Sometimes they even win: Just ask Jerry Yang or Chris Moneymaker.
Howard Diamond, a 37-year-old Chicago marketing exec, is uncannily typical of these dreamers with day jobs. The average World Series player is a white male American, 38.9 years old, who does something else for a living.
Poker is a hobby Diamond is good at. Quite good. He and I play in the same home game north of Chicago, in which he's known as a confident risk taker who hits more than his fair share of draws (especially when his wife, Cheryl, is pregnant). His steady win rate and successful career made the $10,000 buy-in a hurdle he could clear. He's been itching for years to play in the Main Event, though domestic considerations made it hard to leave town for 10 days.
"I'm the father of two young children," he reminded me, "with a very supportive and understanding wife."
And an understanding boss. When asked what he thought about Diamond leaving town for 10 days, his boss told him, "Go for it."
From watching Diamond play for five years, I knew he had the fearlessness and trapping skills to capitalize on a sweet run of cards. He'd have to avoid overplaying his draws, though, since Cheryl wasn't pregnant and he couldn't reload in the tournament the way he can in our cash game. "I've been seeing the game pretty well," he told me. "Reading players and situations, having a positive mental state. I wanted to parlay this all the way to the big time, or at least give myself a chance. And besides, I was free-rolling."
Even so, he said, "Walking up to the cage with 10K in cash, I wondered what I was getting myself into. Many players are staked or win satellites, but I was betting 100 percent on myself. I'd had two generous offers to stake me, but I didn't want the pressure of maybe losing a friend's money." He also didn't anticipate the physical and psychological stress of playing high-stakes poker day after day.
Diamond told me one of his best experiences was hearing a moving speech from Jack Effel, the tournament director, about the longtime pro Chad Brown receiving an honorary bracelet in his hospice bed not long before losing his battle with cancer.
It was also a thrill, he said, sitting across the table from poker legend Ted "Spooky" Forrest and, later, David Einhorn. Playing pots with a wheelchair-bound man using a special device he'd invented to read his hole cards also provided perspective.
One German pro told him he didn't play like an amateur after watching Diamond snap off a bluff with 40 percent of his chips. He was also proud of check-raising pros attacking him in position. "One frustrated player said `I guess you're unbluffable,' not realizing it was me who was bluffing."
But he also realized how good most pros are. "I need a lesson or two on how to interpret bet size," he said. "Some pros could tell if X number of chips meant two pair instead of a set. I have a decent feel for these things, but if I can get more scientific about it, I'll have a better chance against the toughest players."
And then there was the spectrum of emotions. "I started off feeling like an impostor, then began thinking I belonged with the pros, before I came back down to earth." In the meantime, though, he was often thrilled "just of being in the same bathroom or cab line with Antonio Esfandiari or Phil Galfond or Tom Dwan" -- and finishing higher than all of them.
As happens to more than a few World Series rookies, Diamond's parents called to ask whether he could cash out his 400,000 chips for that many dollars, not understanding they only represented his equity in a prize pool that wouldn't begin to be distributed until the next day.

After playing well for three days, building his stack at one point to almost half a million chips, he finally made a fatal mistake. "My last hand was an overcommitment on a nut flush draw when my opponent checked to me in position with half my stack already in," he said. "I tried to represent a set, but he called my all-in shove with the top two pairs. It was a little embarrassing to lose on a bluff, and I hope they don't air it on ESPN, which was taping the hand."
Ushered by a floorman on the terrible (if lucrative) walk to the cage, Diamond felt the best medicine was to share what happened right away with his wife and the others who'd followed his progress via text. "My friends from the home game were amazingly supportive," he said.
Finishing 413th may sound more impressive if you remember this was Diamond's maiden voyage and the starting field was 6,683. The guy with the ready-made poker moniker finished in the top 6 percent, earning $29,400.
"I'll almost certainly go back in 2015," he said. He's also thinking of building a website along the lines of a poker confessional, where players can share the details of hands and get comments from others. He imagines it would make money from advertising, "something I know a little bit about."
If Cheryl Diamond gets pregnant anytime during the launch, it's a venture I'll want to buy stock in.

This column does not necessarily reflect the opinion of Bloomberg View's editorial board or Bloomberg LP, its owners and investors.