view
San Francisco's Recycling Claims Are Garbage
A recent lawsuit exposes some funny calculations behind San Francisco's claim to divert 80 percent of its waste from landfills to recycling.
by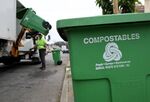 If you toss an apple core into a composting box and it ends up in a landfill, has it been recycled? In most places, the answer would be a simple "no."
Not in San Francisco. There, thanks to creative and perfectly legal waste accounting, that apple core can end up in a landfill and still be officially considered recycled. One might think of it as "Schrodinger's trash" (being both landfill and compost at the same time), and its environmental benefits are worthy of debate. What's not debatable, however, is that without this magical transformation, San Francisco's gaudy 80 percent diversion rate (the amount of waste the city diverts from landfills into recycling) would be significantly lower, calling into question the title of "greenest city in the United States and Canada."
That San Francisco calculates its landfill diversion numbers differently (and more shamelessly) than just about any other city on the planet is no secret among people involved in waste management. But over the last several weeks the issue has begun to receive broader attention because of a successful whistle-blower lawsuit that accused Recology, San Francisco's longtime waste-and-recycling contractor, of manipulating data to earn financial bonuses for meeting city waste-diversion targets in 2008. Recology did this in part by sprinkling crushed concrete construction waste atop the garbage in landfills (so as to control odors, pests, and scavengers), and then claiming the crushed concrete had been diverted from a landfill was and was thus "recycled," even though it ended up ... in a landfill.
Remarkably, what Recology did was almost legal under California law. The use of construction waste and other reclaimed materials as "alternative daily cover" in landfills is legal, and so is counting the practice as recycling -- so long as the materials have been ground into a "fine" powder. Recology, however, failed to do that, and thus it's on the hook to pay back $1.36 million.
You'd think that San Francisco's Department of the Environment, which paid out those inflated bonuses, would have been supportive of, if not thrilled at, the verdict. But, curiously, it wasn't. According to the San Francisco Guardian, the department's representative to the trial hoped that the case would be unsuccessful.
Why? The department wouldn't comment to the Guardian, but one likely explanation is that Recology's practices had the side benefit of inflating the city's landfill diversion statistics. It's not just construction waste, either. This week, Recology told the Guardian that 10 percent of what San Franciscans compost in their blue bins ends up "recycled" as alternative daily cover in landfills -- with the city's knowledge.
According to a December analysis by Samantha MacBride, an assistant professor at the City University of New York, San Francisco's diversion rate would be roughly 60 percent if it used conventional methods of calculation. Sixty percent versus 80 percent is the difference between being Seattle (still impressive, but not world-beating), and being a role model for the rest of the world. Unfortunately, the most important lesson that interested cities might learn from San Francisco's example is that the quickest way to improve the local recycling rate isn't to distribute bins, but to hire a bookkeeper who doesn't mind holding his or her nose at what's happening down at the city dump.
Corrects description of Samantha MacBride's analysis in seventh paragraph of article published July 11.
To contact the author on this story:
Adam Minter at aminter@bloomberg.net
To contact the editor on this story:
Nisid Hajari at nhajari@bloomberg.net
Before it's here, it's on the Bloomberg Terminal.
LEARN MORE