Poker's Millennials Thump Grizzled Vets
Until about 15 years ago, poker was dominated by veterans who'd logged thousands of hours of live high-stakes action. But once poker moved to the Internet, ambitious and talented students began taking over.
by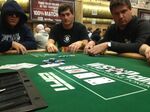 Until about 15 years ago, poker was dominated by veterans who'd logged thousands of hours of live high-stakes action. But once poker moved to the Internet, ambitious and talented students could play eight or 10 tables at once, contesting hundreds of pots per hour, applying math, logic, game theory and lightning Xbox dexterity while honing their game.
The winners in cash games and tournaments got younger and younger. Beginning in 2008, when 22-year-old Peter Eastgate won the World Series of Poker's Main Event, the winners have been Joe Cada, 21; Jonathan Duhamel, 23; Pius Heinz, 22; Greg Merson, 24; and Ryan Riess, 23.
Dozens of other young guns who have yet to become boldface names are earning long money at poker, even after their online opportunities were essentially shut down by the U.S. Justice Department on April 15, 2011 -- Black Friday. Among the most impressive of these is Zach Jiganti, who is spending his first summer after graduating from college playing No-Limit Hold 'em at the Bellagio casino in Las Vegas, along with a few World Series events down the road at the Rio.
Jiganti's quantitative skills, entrepreneurial drive and unrelenting aggressiveness make him typical of the new breed of online wizards forced to transition to live poker, although the path he took is fairly unique.
At 15, he moved from his family's home in Gig Harbor, Washington, to attend the IMG tennis academy in Florida. Recruited by Texas Tech University, he played varsity tennis for a year before realizing a career as a touring pro wasn't in the cards. "I flat out wasn't good enough to make big money," he says. Meanwhile, he found himself playing lots of poker online.
"I'd dabbled in the play-money games on PartyPoker when I was 12 or 13 after figuring out how to get real money through various promotions they offered," he said. In boarding school, he had plenty of free time and "spent a lot of it building my bankroll" in heads-up, or one-on-one, cash games. By the time he was 17, he was playing games with blind bets of $50 to $100 after tennis practice. "One of the most memorable days of my career was beating Maria Sharapova in the morning, then winning something like $38,000 in the evening. The sky was the limit."
He also noticed that the sites returned a percentage of their rake, or commission, to high-volume players as an incentive to retain their action. These payments could make the difference between finishing the month in the red or the black. Jiganti and a partner next started a small site of their own; when they drove new players to a larger affiliate, they also got a cut of the rake.
"We began returning enough profit that I thought my poker-playing days might be behind me," he said. He was all of 18, already thinking about retirement. "Black Friday was catastrophic for us. We'd sunk well into six figures apiece, and lost almost all of our revenue overnight."
Over the next two years, he rebuilt his bankroll playing heads-up No-Limit Hold 'em, the most psychologically complex form of poker. "Focusing only on one opponent and adjusting to his strategies was something that suited me well," he said. By June 2008, he was winning games with buy-ins between $2,000 and $5,000.
"Unfortunately," he said, "it was around this time that the games began getting tougher."
Why? Because more and more training sites, such as CardRunners and BlueFire Poker, were providing ambitious players with highly effective tactics. Worse, these newly educated players resorted to "bum hunting": Rather than taking on all comers, they used tracking software to identify the weakest opponents and avoid the toughest. The action dried up.
Jiganti's solution was a new heads-up format he called King of the Hill, which would have made bum hunting impossible if the big poker sites had cooperated. They did not. "I was frustrated because I knew what it took to revive the heads-up community, but I couldn't convince those companies to make the necessary changes to their software," he said.
If he couldn't beat them, perhaps he could join them. He moved out to Silicon Valley and transferred to the University of San Francisco. He intended to play Bay Area cash games in his spare time, but he kept winning so steadily that he soon decided to explore his poker potential full time. Since then, he's been winning live cash games in Las Vegas and California for sums large enough to live comfortably and travel while building a sizable savings account.
"Hard work always pays off," he said.
I asked if he felt any pressure to pursue a more "respectable" vocation.
"I come from a high-achieving family," he told me. "Both my parents are Ivy League grads, and plenty of relatives have respectable careers, but I never felt much pressure to follow in anyone's footsteps."
No-Limit Hold 'em is a game that abundantly rewards intelligent aggression, and Ziganti's is so extreme that respectful opponents have taken to calling him "The Sickness." As one of them told me at the Bellagio, "It's just sick how wide his four-bet range is," adding an expletive.
Jiganti pulled in his horns somewhat on Day One of this year's Main Event, keeping his bets small in order, he says, "not to bloat the pot." The smaller the pots are, the less resistance you'll meet trying to steal them. He also got lucky, drawing a table with only two other pros, over whom he had reasonably good control. And he drew four-of-a-kind 10s when another player bet his whole stack with a kings-high full house.
While most reporters focused on the usual suspects, Jiganti quadrupled his starting stack to almost 130,000 chips in the first four hours of play. But by the dinner break, he'd given back about 20,000, and by the time the day's play had ended, after midnight, he had just 61,550, having lost a third of his chips when he missed an open-ended straight draw, tried to take the pot with a bet, and was forced to fold after his opponent check-raised him, all in.
Even so, for the Sickness, ending the day with 61,550 was a highly respectable showing among the more than 6,000 players vying for poker's most visible title.
This column does not necessarily reflect the opinion of Bloomberg View's editorial board or Bloomberg LP, its owners and investors.
To contact the author on this story:
James McManus at arramc@msn.com
To contact the editor on this story:
Timothy Lavin at tlavin1@bloomberg.net
Before it's here, it's on the Bloomberg Terminal.
LEARN MORE