Obama's Immigration Failure
By declaring he will take this executive action, the president has basically killed whatever chance there is of passing a permanent immigration solution, not just this year, but in 2015 and beyond.
by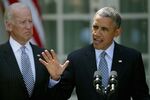 President Barack Obama's vow to use unilateral action to address some U.S. immigration challenges is disappointing because it is a nakedly political maneuver designed to benefit his fellow Democrats in this election cycle. It has significant, negative repercussions for policy, too.