How No-Limit Hold 'Em Conquered Poker
Texas Hold 'em is now the most dominant form of poker in the world. Here's the story of how it happened.
by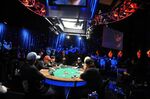 At this summer's World Series of Poker in Las Vegas, players can test their skills in 16 modern variants of our 200-year-old national card game.
These include badugi, badeucy, seven-card stud, deuce-to-seven triple draw, pot-limit Omaha high-low-split eight-or-better, and even mixed-game events such as H.O.R.S.E. (Hold 'em, Omaha eight-or-better, Razz, Stud and stud Eight-or-Better).
Yet over the past few decades, one variant has unquestionably become the dominant one: No-Limit Texas Hold 'em.
Most of the 66 events at the World Series feature Hold 'em exclusively, including the Main Event and the Big One for One Drop charity tournament, with its $1 million buy-in and enormous prize money. No other variant was seriously considered to decide these high-status championships. And no other variant comes close to Hold 'em's notoriety in popular culture. The story of how it became so dominant, some of which I've previously described in my book "Cowboys Full," is one of cultural evolution, economic opportunism -- and no small amount of clever inventiveness.
According to the author and veteran Texas road gambler Crandell Addington, it was Felton "Corky" McCorkindale who introduced Hold 'em to Las Vegas in the early 1960s. Other Texans attracted to Vegas, where poker was legal, included Johnny Moss, Doyle Brunson and "Amarillo Slim" Preston. In 1970, they and Horseshoe casino owner Benny Binion chose No-Limit Hold 'em as one of five variants in the inaugural World Series of Poker. The following year, they picked it to decide the championship event, a decision that would prove fateful. At the time, though, most of the world was still playing five-card draw and seven-card stud.
That began to change in the late 1970s, when shows such as ABC's "Wide World of Sports" began airing brief segments on the World Series of Poker. ESPN was soon broadcasting half-hour specials on it. Respected books by Al Alvarez ("The Biggest Game in Town") and Anthony Holden ("Big Deal") introduced Hold 'em to a more "book-learnt" demographic, while the 1998 film "Rounders" -- in which Matt Damon blows off law school (and Gretchen Mol!) to play in the World Series -- introduced the game to pop culture more broadly.
But Hold 'em didn't really take off until Henry Orenstein, a skilled poker player and prolific inventor, devised a special table with glass panels through which cameras could reveal each player's two face-down cards. Orenstein was motivated by what he called "incredibly boring" coverage on ESPN. In 1998, his patented table was used for "Late Night Poker" on the U.K.'s Channel 4. By 2003, the Travel Channel was broadcasting World Poker Tour games using cameras recessed into the rail. ESPN used similar technology during that summer's championship, when Tennessee accountant Chris Moneymaker eponymously bluffed his way to the $2.5 million first prize, a nice little 6.41 million percent return on investment after winning his seat online in a $39 PokerStars game.
Boom.
Before Orenstein's breakthrough, following poker on TV was like watching Mojave green rattlesnakes hibernate and smoke. Dead-eyed pros, betraying not a flicker of reaction as the cards hit the table, made for superlative poker but ponderous television, because the audience had no idea who was bluffing and who was peddling the nuts. The new hole-card cams gave viewers more information than the players had. Sidebars showed pot size, chip counts and the odds of each hand's winning a showdown. Suddenly, watching the hand-to-hand combat was both scintillating and educational. "The resulting explosion of poker on cable television turned the leading players into celebrities whom the average Joe could find himself sitting down next to at a tournament," Holden pointed out. "Joe's liability, what's more, was limited to the buy-in, which he could win in a satellite, usually online. The new economics of poker were born."
The variant played in every major televised event continues to be No-Limit Hold 'em, which tends to reward aggressiveness. The leverage it provides to win pots without the best hand gives vigorous risk takers a sizable edge. As a result, testosterone levels tend to be predictive, which helps explain why men in their early 20s have won every Main Event since 2008.
Hold 'em is also a ratings favorite because five community cards are placed face up in a neat row at the center of the table -- right between the sponsors' logos. That's much easier for a mass audience to follow than, say, stud action, with up to seven four-card boards competing for attention on a crowded screen. Yet the most telegenic aspect of Hold 'em might be that its players can "go all in," a phrase that now pervades the modern vocabulary.
One downside of too many all-in shoves is that producers cut past hours of sophisticated sparring to linger on crowd-pleasing, make-or-break hands. Only when there's time to show "small ball" action develop can the viewer get a sense of how psychologically and quantitatively complex the game really is. "The best poker variations strike the right balance between hidden and exposed cards," wrote Dan Harrington, the 1995 champion and author of influential primers on the game. "Texas hold'em lies right in the center of that sweet spot. Two hidden cards allow plenty of room for maneuvering, while five exposed cards allow a good player to make plenty of deductions about opposing hands."
Because Hold 'em is the game I've had my best results in, I entered Event 58 of this year's World Series, the $1,500 Mixed Max, in which play is nine-handed on Day One, six-handed on Day Two, four-handed on Day Three and heads-up on Day Four. The challenge is adjusting to the rising value of hands as the number of opponents keeps diminishing, until you enter the deep psychological warfare of heads-up action. I was fortunate enough to finish Day One with 48,200 chips -- good for 40th place.
This column does not necessarily reflect the opinion of Bloomberg View's editorial board or Bloomberg LP, its owners and investors.