NBA's Teenagers Should Go to the Minors
Four of the first five picks of tonight's NBA Draft are almost certain to be "one-and-dones."  Most are not ready for the pros. 
by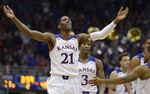 Four of the first five picks in tonight's National Basketball Association Draft are almost certain to be "one-and-dones," 18- and 19-year-olds who played a single year in college. Too often, such youngsters aren't ready to contribute to a winning NBA team, and many spend the next season playing sporadic minutes, slowing their development. The NBA wants to fix this problem by changing the one-and-done rule to "two-and-through" -- requiring that players stay at least two seasons in college before entering the draft.
That would be an improvement, but it's not enough. The real challenge for the NBA is building out its minor league system and creating a culture, like that of baseball, in which the top draftees are expected to apprentice in the minors for one or two seasons before joining the big club. This will take years to accomplish. Yet it should rank among the highest priorities on the NBA's to-do list under Commissioner Adam Silver.
NBA rosters, with only 15 spots -- as opposed to MLB's 25 and the NFL's 53 -- are both qualitatively and quantitavely diluted by the many one-and-dones who are not truly ready to play with others. Growing up, most of them were the focal points of their middle school, high school and Amateur Athletic Union teams. Everything revolved around them. One or two years of college is hardly enough time for such a player to learn how to play on a team of equals, as opposed to being the sun, the moon and The Star.
This is why it's such a poor argument to say high school basketball players should be treated no differently than teenage gymnasts or tennis players -- that they should be allowed to turn pro after one year of college or even none whatsoever. This argument overlooks the skill (and it is a skill) required to learn how and when to cut on offense, or when to rotate on defense -- the sorts of qualities individual-sport athletes don't have to consider. It's as much a disservice to the players as it is the league for us to expect most 19- or 20-year-olds to be able to master these intangibles without three or more years of college and/or minor league play.
I admit that building out the Development League to 30 teams, one minor league squad for each NBA franchise, will be no easy task. The D-League will be at 18 teams next season; finding another 12 U.S. cities with appropriate small venues (ideally, no more than 4,000 seats, and without competition from minor-league hockey) is a significant obstacle.

I know from experience. In 2005, I formed a company that purchased the ownership rights to four of the D-League's eight teams from then-Commissioner David Stern, with the understanding I could move them from the southeastern U.S., where they were failing, to places west of the Mississippi. I visited 24 cities, meeting with mayors, civic leaders and building managers, and ultimately selected four demographically sensible cities in close proximity.
Unfortunately, none of the four ended up with a decent arena. Our Austin, Texas, team originally played in a convention center hall; our Albuquerque, New Mexico, team played in a dilapidated fairgrounds coliseum. (The Albuquerque team has since moved to Ohio, and my group has not had control of any D-League teams since 2009.) There simply were not -- and still are not -- 30 quality minor-league arenas in the U.S. that commensurate with the dozens of shiny new stadiums in Triple-A and Double-A baseball.
Moreover, even if we could identify 30 viable markets with the right types of arenas, the more difficult challenge will be developing an attitude adjustment among players: Namely, that it's no longer a stigma to play in the D-League. Presented with a choice between the University of Kentucky and, say, the Reno Bighorns (another team I founded), an elite high schooler will choose Kentucky every time, even if he has no interest in academics and has to masquerade as a student for one or two years. Yes, it matters that Kentucky has national TV appearances, March Madness and training tables. But it also matters that today's player sees the D-League as a stepping down, not a stepping stone, to an NBA career. This is very different from baseball, hockey and other sports with mature farm systems.
Even some teams are wary of the stigma of the D-Leage: The Cleveland Cavaliers opted not to assign Anthony Bennett, last year's No. 1 overall draft pick, to their D-League team in Canton, Ohio, this season, even though Bennett seldom played and clearly needed the polishing and experience a minor league affords.
There are many dimensions to this discussion, including the future of the NCAA itself. But until the NBA and its owners devote the resources to build out the D-League and to build up its image, it won't matter if the eligibility rule is one-and-done or two-and-through. Too many teenagers will be occupying roster spots in a league that once relied strictly on men.
This column does not necessarily reflect the opinion of Bloomberg View's editorial board or Bloomberg LP, its owners and investors.