Barclays Not Smart
You want it to be one way, institutions trading with each other without the intervention of short-term profit-oriented electronic traders. But it's the other way.
by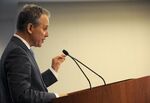 Here is a lesson in the grammar of financial presentations. Barclays runs a dark pool called Barclays LX. In that dark pool, institutions can trade stocks without publicly displaying their orders, as they would on a stock exchange. Barclays pitched this dark pool to investors by telling them that it monitored the dark pool to keep out "predatory" traders and let in only nice, well-behaved traders. It showed them this chart:

I suppose you could read that chart to mean that LX has a balance of institutional investors (blue circles) and high-frequency traders (green circles), and that they're all nice and well-behaved: There's a lot of green trading (green, in financial presentations, is good), a lot of white trading (white is neutral), and not a lot of pink trading (pink is like red, and red is bad). 1 According to New York Attorney General Eric Schneiderman, Barclays wanted its clients to read the chart that way.
The chart did not actually say that, though. You can tell because it starts with the word "Sample." "Sample," in financial presentations, means "not true." In particular, Barclays removed Tradebot, an aggressive high-frequency trading firm, from the chart, because it didn't want the chart to look bad. And then this glorious exchange occurred:
41. In a response email, one employee objected to the modified chart, stating that removing Tradebot from the analysis was a falsification of the data.

42. In response to this objection, a Director in the Equities division wrote that "the point of the chart is not to show what's in the pool. The point is to market our capability . . . to monitor individual participants in the pool."

43. A Vice President responsible for selling the dark pool to clients disputed that explanation, replying to the group that "[m]y point when selling that picture was always: 'here is a snapshot of the participants in [Barclays' dark pool] as an accurate view of our pool.' I was never using it like an 'illustration'" of Barclays capability to monitor the pool. "I had always liked the idea that we were being transparent, but happy to take liberties if we can all agree" (emphasis added).

44. Barclays' Head of Product Development (who was also the second in command within Barclays' Equities Electronic Trading division) agreed. He responded, "I think the accuracy [of the chart] is secondary to [the] objective" of showing clients that Barclays monitors the trading in its dark pool, and "so if you want to move/kill certain bubbles, it doesn't really matter."

45. Barclays' Head of Equities Sales responded, "Yes! U smart."
The naive reading of that chart is: "We have a lot of institutional investors and very limited predatory trading in our dark pool." But the correct reading of the chart is: "We have software that allows us to produce this chart." The chart is a perfectly self-referential object, demonstrating only that the chart exists. The chart is a chart of how much chart there is.
This is all perfectly clear from the word "Sample." You just have to know how to read it. 2
This little story comes, of course, from the complaint in the fraud lawsuit that Schneiderman filed against Barclays yesterday. The thrust of the allegations is that Barclays operated this dark pool, LX, and advertised it to investors by saying that it was a safe space, carefully monitored to be free from predatory high-frequency traders. Because predatory high-frequency traders are Bad, and no institutional investor wants to trade with predatory high-frequency traders.
Meanwhile, Barclays was advertising LX to high-frequency traders by offering them more information, lower fees, and faster connections than it gave to institutional investors. And when those high-frequency traders traded in a way that Barclays's own monitoring flagged as "toxic," Barclays did nothing about it, because it wanted to keep the high-frequency traders happy.
Okay, so, now: Why? Why would you want to keep the high-frequency traders happy? Here is Schneiderman:
Barclays charges high frequency trading firms little or nothing to trade in its dark pool. For instance, Barclays' charges the two largest participants in its dark pool -- both of which are high frequency trading firms -- virtually nothing to execute trades. Since at least 2011, these firms were charged nothing per share when posting orders, and between $0.0002 and $0.0005 per share when taking available orders.
Let's do some math on that. Barclays's dark pool trades 282 million shares a week, or around 15 billion shares a year. Let's say that 50 percent of that volume came from those two biggest HFTs, that 80 percent of their trading was taking liquidity, and that they paid Barclays $0.0005 per share every time they took liquidity. So those HFTs paid Barclays about $3 million a year.
Barclays made over $4 billion in equities revenue in 2013. 3 Why would you rip off your institutional customers who pay you $4 billion, in order to serve your high-frequency trading customers who pay you less than one one-thousandth as much?
Now, to be clear: While it's just a complaint, and Barclays hasn't had a chance to respond, Schneiderman makes a pretty good case that Barclays was deceiving its big institutional customers. 4 But this is not quite the same as making a good case that Barclays was ripping off those customers. The complaint is long on evidence of false advertising, but shorter on evidence that the "predatory trading" was actually predatory. There's a certain amount of foamy fulmination at "predatory trading," but nowhere is there any evidence suggesting that Barclays's institutional clients were actually harmed by it. 5
Legally, that probably doesn't matter. It's just a complaint, for one thing. And it's a complaint under New York's Martin Act, which says that everything is fraud. Schneiderman doesn't have to prove that Barclays allowed predatory trading in its dark pool. He's just saying that Barclays allowed trading that Barclays itself characterized as predatory, in its own marketing materials. Like Barclays's chart, this lawsuit is a self-referential object.
But if you want to understand what happened here, that revenue breakdown seems like a useful starting point. Barclays's institutional customers paid it a ton of money; its high-frequency trading customers paid it "virtually nothing." But Barclays made its dark pool welcoming to the HFTs, while telling institutions that it was doing the opposite. There's no evidence, yet, that those institutions were harmed, but there is evidence that they were deceived. Why?
Here's a theory. Barclays's pitch, in its way, is not so different from Schneiderman's. It goes like this: You can trade stocks without interacting with professional traders who expect to make money in the short term by interacting with institutional order flow. You can have a market that is just institutions trading with institutions, with no short-term profit-seekers hanging around taking their share.
This is the dream of many institutional investors, and it's the story that every dark pool wants to tell. It's also the story that Schneiderman wants to tell: that HFTs are purely predatory, and that "real" investors would be happy to buy and sell without them.
But there's a problem, which is that it doesn't work very well. When you just put institutional investors in a pool that excludes high-frequency traders, they have a hard time trading with each other. There's not, it turns out, all that much natural liquidity. Which makes sense. Institutional investors with similar goals and time horizons tend to move together. Many strategies are similar, and many institutions don't even have strategies. Index funds and ETFs are an increasing share of the equity market, and they all buy the same stocks at the same time when money flows into equities. If they're just trading with each other, who is selling?
The way to get trading is to put people with different viewpoints, different goals, and different time horizons together in a single pool. High-frequency traders, who make money by providing liquidity rather than by picking stocks that will go up in the long term, interact usefully with real-money investors. And, yes: They make money doing it. You can call this "predatory" if you want.
Barclays, like other dark pool operators, knew this: 6 that you can run a pristine dark pool without "predatory" high frequency traders, and without much trading, or you can run a useful dark pool with high-frequency traders. Barclays could have kept its investor clients "safe" from high-frequency trading, but only at the cost of them not trading much. (And thus: not paying Barclays much!) And if you're sending Barclays an order in the first place, it's because you want to trade. You'd probably rather trade with someone who's not making money off of you, instead of with someone who is, but you'd rather trade with someone who is making money than with no one.
But Barclays couldn't just say this, because the reputation of high-frequency trading is so bad. It needed a whole song and dance about how it kept out the bad kinds of high-frequency trading. So that chart says (or, you know, doesn't say): There's no one here who will (1) trade with your order and (2) make money doing it. 7 Obviously if you're trying to buy or sell stock, you want someone to trade with your order. Obviously making money is a good reason to trade with an order. But no one can say that. So instead, there are fake charts.
The promise of Barclays LX is the promise of Eric Schneiderman: We can protect you from professional traders who expect to make money trading with you. 8 But Barclays couldn't. And Schneiderman probably can't either.
To contact the author on this story:
Matthew S Levine at mlevine51@bloomberg.net
To contact the editor on this story:
Toby Harshaw at tharshaw@bloomberg.net
Before it's here, it's on the Bloomberg Terminal.
LEARN MORE