Don't Shortchange Short Sellers
If we want stronger, less bubble-prone financial markets we short make it easier and less expensive for people short sell stocks. 
by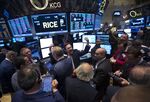 More finance journalists and industry people should go to academic conferences. There is a lot of good stuff to learn. Case in point: I recently attended the Western Finance Association's annual meeting in Monterey, California, and saw several papers that changed my outlook on financial markets and policy. One of the most interesting was called "Short Selling Risk," by Matthew Ringgenberg, Adam Reed, and Joseph Engelberg.