There Will Always Be Stock-Drop Lawsuits
But only if there's a stock drop. Seems fair!
by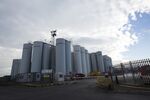 Every once in a while a company will announce bad news and its stock price will go down. When this happens, enterprising lawyers will sue the company, saying that it should have announced the bad news earlier and that innocent shareholders were tricked into buying stock because they didn't know about the bad news. These lawsuits are informally called "stock-drop lawsuits," and a lot of people think they're Bad, because they mostly are. 1 So those people have tried, with mixed success, to get Congress or the Supreme Court to eliminate them. 2
Today the U.S. Supreme Court issued an important decision in a stock-drop lawsuit called Halliburton Co. v. Erica P. John Fund Inc. in which it ruled that there can still be stock-drop cases, but only if the stock actually drops. This seems sensible enough, but it comes wrapped in a hard candy shell of efficient-markets flummery, and I don't know what to tell you.
The story is this. If you're an enterprising lawyer and you want to bring a stock-drop case, the first important hurdle is to get "class certification," in which the court agrees that you can represent all the investors who bought the stock during the period leading up to the announcement of bad news. 3 Once you get a class certified, you get to throw around giant damages numbers, and so you have a lot of leverage to get the company to settle. 4 On the other hand, if you can't get a class certified, then it's not going to be worth your time to represent just one shareholder suing over its losses. So plaintiffs' lawyers really want to get a class certified, and defense lawyers really want to prevent that.
Now, to win a securities-fraud lawsuit -- and stock-drop cases are securities-fraud cases -- you need to prove a bunch of things, including, in particular, 1) that the company made false statements, 2) that those false statements were material and 3) that you relied on them. 5 The reliance element presents a problem for class actions, because you can't really prove that every shareholder who bought during the class period relied on the company's statements. You can't even prove that every shareholder read the company's statements. Most of them probably didn't.
The solution to this problem is a 1988 U.S. Supreme Court decision called Basic Inc. v. Levinson, in which the court ruled that you don't actually have to show reliance to get a class certified. Instead, you can rely on the normal way people buy stocks: They see the price, assume that it reflects the market's judgment of all disclosed and required-to-be-disclosed information, and decide whether they like the stock. So plaintiffs can get a "rebuttable presumption of reliance" by showing:
(1) that the alleged misrepresentations were publicly known, (2) that they were material, (3) that the stock traded in an efficient market, and (4) that the plaintiff traded the stock between the time the misrepresentations were made and when the truth was revealed. 6
This is called the "fraud on the market" theory, and it has been controversial ever since it was announced. First, because it allows for lots of stock-drop lawsuits, which people think are Bad, and second, because some people get all worked up about "well, actually, markets aren't totally efficient." The first objection is plausible enough, if you think stock-drop lawsuits are Bad; the second is really dumb and I consign it forever to the footnotes. 7 One reason that the Halliburton case is important is that Halliburton explicitly asked the Supreme Court to overrule Basic, for these two reasons. The court said no.
But it gave Halliburton a bit of what it wanted. Halliburton wanted the court to
allow defendants to rebut the presumption of reliance with evidence of a lack of price impact, not only at the merits stage -- which all agree defendants may already do -- but also before class certification.
And the court agreed.
What this means is:
If a company announces bad news and its stock goes down, and

You sue the company saying that it defrauded innocent investors, and

The company proves, no, the stock didn't go down, then

Your lawsuit gets thrown out before the class is ever certified.

O ... kay? This seems straightforward enough, and yet. For one thing, if the stock didn't go down, why would anyone sue? For another thing, how much of a dispute can there really be over whether the stock went down? (The answer is "probably a lot": You can debate whether the stock went down because of the bad news or because of some other, unrelated thing in the company's news release, or market conditions, or whatever, so the company could introduce evidence that the concealed-and-then-disclosed bad news isn't what actually caused the stock drop.)
Here's another weird bit, though. Obviously, as the court says, Halliburton would have a chance to argue that its failure to disclose bad news didn't prop up the stock price, and that revealing that news didn't cause the price to drop. The question is just whether it can argue that before class certification -- as part of this fraud-on-the-market inquiry -- or afterward. After the class certification, Halliburton can make all sorts of arguments, including that its omissions weren't material: that there was not "a substantial likelihood that the disclosure of the omitted fact would have been viewed by the reasonable investor as having significantly altered the 'total mix' of information made available." 8
But Halliburton can't argue materiality before class certification, because it has nothing to do with whether a court should certify a class. 9 Price impact, on the other hand ... well, what?
EPJ Fund argues that much of the foregoing could be said of price impact as well. Fair enough. But price impact differs from materiality in a crucial respect. Given that the other Basic prerequisites must still be proved at the class certification stage, the common issue of materiality can be left to the merits stage without risking the certification of classes in which individual issues will end up overwhelming common ones. And because materiality is a discrete issue that can be resolved in isolation from the other prerequisites, it can be wholly confined to the merits stage.

Price impact is different. The fact that a misrepresentation "was reflected in the market price at the time of [the] transaction" -- that it had a price impact -- is "Basic's fundamental premise." It thus has everything to do with the issue of predominance at the class certification stage.
The Supreme Court is saying here that whether a misrepresentation "was reflected in the market price" is a totally different question from whether it "would have been viewed by the reasonable investor as having significantly altered the 'total mix' of information made available."
Now: This may be true. 10 But if you believe in efficient markets -- as the Supreme Court professes to -- this is hard to square. It suggests that reasonable investors should care about news that doesn't affect the stock price or should not care about news that does. Whether information is important, and whether it affects prices, are two separate questions.
This is not exactly new to this case. But it's an increasingly important question, as prosecutors pursue more insider-trading cases (which also turn on materiality) and as regulators try to extend the law of insider trading to computer-driven activities that they label "Insider Trading 2.0." In modern, electronic, liquid, efficient markets, it would be reasonable and convenient for courts, and helpfully clarifying for investors, to have a simple rule of materiality: If it affects the price, 11 it's material; if not, not.
But that's not the rule. For the Supreme Court, whether market prices reflect material public information remains a mystery, to be considered on a case-by-case basis. That's not much of an endorsement of efficient markets at all.

To contact the author on this story:
Matthew S Levine at mlevine51@bloomberg.net
To contact the editor on this story:
Brooke Sample at bsample1@bloomberg.net
Before it's here, it's on the Bloomberg Terminal.
LEARN MORE