More World Cup Goals, More Good Economic News
The World Cup so far has delivered lots of goals and no outright favorite to win -- a bit like financial markets in recent weeks. 
by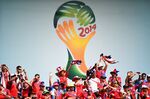 The World Cup so far has delivered lots of goals and no outright favorite to win -- a bit like financial markets in recent weeks. With an average of 2.9 goals a game, 2014 has given fans the fastest tally since the 3.0 pace achieved in the 1970 tournament in Mexico. The lack of clarity about a potential victor even after most teams have played twice, though, pretty much parallels current investor uncertainty about the state of the global economy and the world's financial asset classes.
It looks as though our guest writer Mervyn King was accurate on all fronts with his England predictions. A continuation of the inverse relationship between Britain's international soccer achievements and the nation's economy will hopefully console its long-suffering fans as their team departs, albeit at the cost of the U.K. becoming the first major economy to raise interest rates. Spanish football fans will have similar financial hopes, twinning the shock exit of the reigning champions with this month's better-than-expected industrial production figures.
Along with the openness of this World Cup so far, with FIFA calculating that the average number of passes has risen to 387 per team from 353 in 2010, the success of "second-tier" Latin American countries is notable. Chile, Colombia, Costa Rica and Mexico have all impressed, with neither Argentina nor Brazil justifying their star status as things stand. That echoes economic life in recent years, with the smaller economies outperforming as the true luminaries of the Latin American economic success story.
As for Asia, the marginal driver of the world economy, neither of its heavyweight BRIC members made it to the World Cup. The policy news from both China and India during the tournament, however, seems quite encouraging. Japan and South Korea haven't dazzled so far, and certainly Japanese Premier Shinzo Abe will be hoping for more excitement from both his third economic arrow and his team's third game, against Colombia. For Iran, which qualified as an Asian nation, Saturday's plucky performance against Argentina will perhaps add to the creeping global desire to bring that nation back in from the cold.
As for Europe, while the latest data on industrial production suggest that the so-called peripheral economies are mending with Italy and Spain leading an unexpected jump in April, it's the core euro countries that are delivering on the pitch. France, somewhat surprisingly, is perhaps the star of the tournament so far; how President Francois Hollande would love to bottle some of their success for his economy and his own popularity. The Netherlands has also been pretty bright but, as their supporters know only too well, their team often seems an exciting prospect in the early games only to fade against stronger opposition in the knock-out stages.
The African teams have been as unpredictable as their economies so far, but Nigeria and Ivory Coast, and maybe even Algeria after a goal-packed 4-2 victory over South Korea, look like they could get through to the next round. Even Ghana still has an outside chance of qualifying.
The U.S., of course, got off to a great start against Ghana, and may still qualify after a memorable draw against Portugal. Maybe that's an omen for some blockbuster U.S. employment data in the coming weeks.
I'm obliged to comment on the players from my beloved Manchester United. Not only did Wayne Rooney quiet his critics -- a bit -- by finally scoring at the World Cup finals, but former assistant coach Carlos Queiroz showed his tactical brilliance with the Iranian team he is coaching, and United's other star striker, Robin van Persie for the Netherlands, has scored arguably the goal of the tournament. Even Marouane Fellaini has scored for Belgium, something he has so far failed to do for United, while Nani, a forgotten member of the Manchester squad, netted for Portugal on Sunday. United fans probably grumble every time French midfielder Paul Pogba goes on one of his powerful runs, wondering why Alex Ferguson let him leave.
How are my own tips doing now that we know some of the teams who are definitely staying and some who will be on the planes home after their third games? Of the 16 teams I said would get through, 12 look likely to proceed, with only England and Spain definitely out. As an economist, I was happy if my market forecasts were broadly correct 60 percent of the time, so I will be chuffed with a 75 percent success rate in World Cup qualifiers. Watch this space for the next round of guest commentators commingling team performance with economic outcomes.
This column does not necessarily reflect the opinion of Bloomberg View's editorial board or Bloomberg LP, its owners and investors.