There Might Be a Lot of Insider Trading
And it's in out-of-the-money call options! My favorite thing to tell you not to trade!
by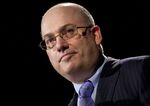 As I may have mentioned over and over and over and over and over again, the first rule of insider trading is just don't insider trade, but the second rule is: If you have inside information about an upcoming merger, don't buy short-dated out-of-the-money call options on the target. The SEC will get you! What I haven't emphasized, however, is that derivatives can be replicated in various ways, so you can use other options to get similar results without trading in the Forbidden Option. 1 This would not technically violate the second rule of insider trading, though I cannot wholeheartedly recommend it since it would violate the first.
Andrew Ross Sorkin has a column today about a new study of options trading before merger announcements, by Patrick Augustin, Menachem Brenner and Marti Subrahmanyam. And ... I mean, it's almost too perfect. Everything you'd predict, if you were maximally cynical, the researchers found. Here are the astounding highlights:
There is abnormal options volume in the 30 days preceding a substantial minority of merger announcements. 2

"The proportion of cases with abnormal volumes is relatively higher for call options (26%) than for put options (15%)."
There's more abnormal trading in advance of cash acquisitions than stock ones, since cash deals usually result in bigger price jumps for the target.
"There is significantly higher abnormal trading volume (both in average levels and frequencies) in OTM call options compared to at-the-money (ATM) and in-the-money (ITM) calls." That is: Use of out-of-the-money call options, the most obvious way to insider trade, the Forbidden Option, increases not only absolutely but also compared with other call options in advance of a merger.
There "is strong evidence that informed traders may not only engage in OTM call transactions, but possibly also ITM put transactions." 3 That is: Some people have figured out ways to trade in options that are not the Forbidden Option.
"The term structure of implied volatility decreases for options on the target firms before takeover announcements," because all you really want is a one-month option so you should be willing to pay more for those relative to longer-dated options. 4

They even find evidence of fishy trading in acquirer stock. This one is a little weird. An acquisition announcement, especially an all-cash one, will almost always increase the price of the target's stock, but it's less obvious what will happen to the acquirer's stock. But something will happen:
Given the uncertainty of the stock price evolution of the acquirer around the announcement date, an insider trading in acquirer options would benefit most by engaging in strategies that would benefit from higher volatility (i.e., a jump in stock prices, in either direction). More specifically, the optimal strategy would be a zero-delta, long-gamma trade, as stated in Hypothesis H7. As stated earlier, this should be particularly true for cash deals, and, in some cases, also true for stock exchange and hybrid deals. In our sample, this will mean that, in a majority of deals, there will be uncertainty regarding the acquirer's stock price. We, therefore, concentrate on such "volatility" strategies.
And, guess what, they find an increase in non-directional volatility trades in acquirer stock: Informed traders seem to be betting, in the days leading up to an acquisition announcement, that the acquirer's stock price will move a lot, without betting on the direction. 5
Come on, it is all a little too much. What does it mean?
Well, one possibility is the bad one: Tons of inside information about mergers leaks, and it goes not to doofus doctors in Syosset emergency rooms but to sophisticated traders who know how to use volatility strategies to leverage that information for maximum profits and minimum risk of detection by the SEC. This is both the natural conclusion and the sexy one, and Sorkin embraces it.
A problem with that possibility is that we actually have some case studies of how sophisticated hedge funds trade in inside information. 6 SAC Capital did, it is fair to say, quite a lotof insider trading. It was also a giant sophisticated hedge fund that, like, knew about put-call parity. Tools were available to it. It could have done its insider trading through weird sneaky put-option trades. But, nope. It bought and sold stock, mostly, maybe a few call options. 7 Same with Galleon Group. This could be a problem of just ineffective enforcement; perhaps the SEC isn't catching the really sophisticated insider traders. 8 But it is a little strange to believe that
there is an insider-trading strategy in widespread use,

some academics figured it out, and

SAC Capital didn't.

The other possibility is a sort of a diffusion model. There is information that you could use to predict mergers, and people look for that information. Companies have on-and-off talks, which are partly disclosed before they actually lead to deals. Mergers come in waves, where one deal in an industry sparks more. Analysts talk to companies about their plans in general terms and write research reports suggesting good acquisition targets. Companies that screen as good leveraged buyout targets actually become leveraged buyout targets. Traders make informed guesses, and those guesses work out. 9
Also sometimes there are leaks, and the leaks result in straight-up insider trading. In the target's stock. Or in the Forbidden Option.
Either way, the stock goes up, because someone makes an informed decision to buy it. Perhaps it goes up suddenly, or suddenly-ish. Its volatility goes up. As volatility goes up, so does short-dated implied volatility. Options traders see volatility and bet on more volatility. Options volume goes up. Everything looks abnormal. Traders bet on short-term volatility because they see other traders doing what looks like betting on short-term volatility.
That may or may not start with insider trading. The point of the diffusion model is not that there's no insider trading. Obviously there is. The point is that an uptick in options trading doesn't mean that those options traders are trading on inside information. They might just be reacting to what they see, or feel, or smell, or whatever computers do, in the market. 10 And the original source of that sensation might be an insider tip, or it might be just a smart guess based on research and public information.
The idea is that the market is a very efficient mechanism for taking information from informed traders -- an activist accumulating a stake, or a smart value investor, or an insider's buddy buying stock on a tip -- and incorporating it into prices. Not just stock prices, but option prices too. On this model, even a small amount of informed trading -- whether informed by insider tips or just research -- could have a noticeable effect on options trading.
Of course, so could a large amount of illegal insider trading in short-dated out-of-the-money call options. That would certainly be a simpler explanation of the data. But if that's what was going on, wouldn't the SEC have caught it? Isn't that the one thing we know for sure about insider trading?
To contact the author on this story:
Matthew S Levine at mlevine51@bloomberg.net
To contact the editor on this story:
Zara Kessler at zkessler@bloomberg.net
Before it's here, it's on the Bloomberg Terminal.
LEARN MORE