Political Animals and the Fight Over 'Redskins'
The battle over the Washington Redskins' horribly racist name and logo has reached the political lobbyists of K Street.
by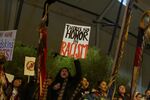 The battle over the Washington Redskins' horribly racist name and logo has reached K Street.
Politico has obtained documents revealing that the team hired lobbying firm McGuireWoods Consulting to work on "discussions of team origins, history and traditions, Washington Redskins Charitable Foundation and youth sports, activities of Original Americans' Foundation" -- all of which seems like a lot of work to convince people your racist name isn't racist.
The lobbying disclosure was filed May 29, just a week after 49 Democratic U.S. senators sent a letter to NFL commissioner Roger Goodell calling for the league "to formally support and push for a name change for the Washington football team." Senate Majority Leader Harry Reid endorsed the letter, but two of the five Democrats who didn't sign it are from the state where the Redskins are incorporated: Senators Mark Warner and Tim Kaine of Virginia.
The letter was circulated by Senator Maria Cantwell of Washington state, who made the questionable decision not to ask any Republicans to sign on. John McCain -- a Republican who represents Arizona, a state with a significant American Indian population -- had previously stated that he "would probably change the name," and told Politico that he would "probably" have signed the letter had he been asked.
The failure to reach out to Republican senators has been cited as evidence that the push for a name change is nothing more than politics. Given Cantwell's previous tenure as chairwoman of the Senate Committee on Indian Affairs and Reid's persistent, strong opposition to the Redskins name, I've no doubt that these senators are genuinely fighting to change the team's name out of respect for the offended American Indian community. But if that were the sole, admirable goal, they would have looked for support across the aisle instead of trying to brand this as an exclusively liberal issue. You can't really imply a group of people are "on the wrong side of history" when you're making them stay there.
Not to be outdone in the political maneuvering, however, Redskins owner Dan Snyder has enlisted his own group of Washington insiders to defend his team's racism -- I mean, preserve its history. Aside from Snyder's contributing to Senator Warner's campaign -- money well spent, clearly -- Redskins president and general manager Bruce Allen sent a note of his own to Goodell explaining that the term "redskins" was originally used to express solidarity among the various native tribes. Funny, because the main thing the multifaction group seems to exhibit solidarity over is a fervent opposition to the slur. Incidentally, Bruce Allen's brother is George Allen, a former U.S. senator from Virginia and partner at McGuireWoods. Their father, George Allen Sr., coached the Washington Redskins in the 1970s and is in the Pro Football Hall of Fame. Defending the team's cultural insensitivity is a family affair.
Don't expect the politics to slow down any time soon. The Yocha Dehe Wintun Nation from California has made a "significant investment" to purchase ad time during the NBA Finals. That amount is undisclosed, but the tribe has spent $67,500 this year in lobbying, all in the human rights industry. (The tribe is also quite active in political donations, contributing a total of $270,100 this year to individual campaigns -- 47 percent Democrat, 53 percent Republican.) The 60-second spot will air during tonight's Game 3 between the Miami Heat and San Antonio Spurs and demonstrates the great diversity within the American Indian community in almost every way but this issue. "Native Americans call themselves many things," the narrator says. "The one thing they don't" -- as the camera cuts to a shot of a Redskins helmet.
The ad is beautiful and moving, and is sure to be seen by a vast audience. On Sunday night, 15 million people tuned in to Game 2 as ABC's broadcast averaged an 8.9 household rating despite airing directly against the Tony Awards, "Game of Thrones" and the Miss USA pageant. Whatever the "significant investment" was, it, too, seems like money well spent -- until you wonder if the Yocha Dehe Wintun could have maybe put it toward their new nonprofit tribal college or to help other tribes that don't have $200 million in casino money.
Partisan maneuvering, lobbying money, nepotism, emotional campaign ads and questionable spending? I guess it really is an election year.
This column does not necessarily reflect the opinion of Bloomberg View's editorial board or Bloomberg LP, its owners and investors.