Don't Let Sprint Buy T-Mobile
A triopoly isn't necessarily better for competition than a duopoly.
by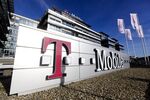 Several years ago, I abandoned my Verizon Wireless subscription for a phone from Sprint, thinking I'd get a better deal from a smaller player. Earlier this year, I left Sprint for T-Mobile, drawn by the maverick carrier's no-contract, no-subsidy approach and applauding the idea that international data service -- slow but nonetheless valuable -- came with my new subscription.

When I opened the door of the T-Mobile store in my neighborhood, I silently praised the Justice Department's Antitrust Division and the Federal Communications Commission for blocking the proposed merger of AT&T Inc. and T-Mobile US Inc. in 2011. Because of that, I had choices.
For the same reason that deal didn't go through, a Sprint Corp./T-Mobile joinder shouldn't be permitted: No matter how the deal is conditioned, it will cause a reduction in competition. (For a different perspective, see: Let Sprint Buy T-Mobile.)
We already have a highly concentrated mobile-phone marketplace. It's a "duopoly with a fringe": Two behemoths, Verizon Communications Inc. and AT&T, take home three-quarters of mobile revenue in the U.S. Their spectrum holdings, existing physical networks, powerful brands and lobbying heft create significant barriers to entry in an industry in which scale and scope are everything.
Sprint, with about 16 percent market share, argues that combining with T-Mobile (13 percent) will create a viable third player. But if a Sprint/T-Mobile deal is approved, the combined entity will have less incentive to be disruptive and more incentive to raise prices than either of them have now as separate businesses.
That matters even if you're not one of their customers. T-Mobile's aggressive marketing plans have driven Verizon Wireless and AT&T to act differently, offering better and cheaper family plans to some of their customers. And when SoftBank Corp. acquired a controlling interest in Sprint, Chief Executive Officer Masayoshi Son said he planned to take on the two giants by investing heavily in Sprint's network.
Some thought Son might even engage in the price wars that shook the Japanese telecom industry. And he did: Sprint's "Framily Plan," introduced earlier this year, offered flexibility and lower prices -- particularly for large group plans -- not offered by either Verizon or AT&T.
Although having a third strong actor sounds attractive on the surface, ask yourself why Sprint would want a merger. Because both Sprint's and T-Mobile's networks are underutilized in comparison to those of AT&T and Verizon, each company already enjoys the low-cost ability to add significant numbers of subscribers.
Whatever "synergies" -- such as eliminating duplication -- Sprint and T-Mobile might capture by combining wouldn't necessarily be passed on to consumers in the form of lower prices. And those savings are likely outweighed by the harm to competition such a merger would cause.
It seems more likely that Sprint wants to avoid making the network investments that might make it possible to take on the giants. In other words, Sprint is choosing "buy" over "make"; it rationally wants the market power that will allow it to raise prices just like the big guys do.
Indeed, it would be hard to show that the risk of coordination with the Big Two will not be increased by having a triopoly: Sending signals among three players is easier than among four, so all three will have an increased ability -- and ample economic incentive -- to further "rationalize" the wireless marketplace in the U.S.
AT&T and Verizon Wireless win either way. Just as the proposed AT&T/T-Mobile merger in 2011 kept T-Mobile quiet for months, the distraction of a suggested combination with Sprint will put T-Mobile off its game, keeping it from dreaming up the disruptive plans that have delighted Americans so far.
Even if the merger is eventually blocked, the giants will have gained breathing room from a marketing perspective. And by the time the merger is denied, both Sprint and T-Mobile will likely have become weaker businesses because they will have been focused on combining rather than competing -- also good news for the two leaders.
Sprint and T-Mobile will make promises designed to solve the FCC's current public-relations problems; most likely, they'll adopt net neutrality rules and pledge to open their networks to competition. But that's window dressing. The real issue is that we'll lose the separate energies of two smaller companies that today provide nationwide choices to Americans.
The high-water mark of U.S. competition policy over the last few years was the Barack Obama administration's refusal to allow the AT&T/T-Mobile merger. In what is essentially a collusive, stagnant industry that operates without meaningful oversight, it won one for the consumer. Since the merger was blocked, it has been great to see what T-Mobile can do on its own. Choosing consolidation over competition in the nationwide wireless marketplace makes no more sense now than it did then.
This column does not necessarily reflect the opinion of Bloomberg View's editorial board or Bloomberg LP, its owners and investors.