view
Ballmer Is a Win for the NBA
For $2 billion,the 58-year-old Ballmer hasn't just bought a team. He has purchased a lifestyle.
by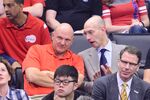 For years, Steve Ballmer has been approached by others -- begged even -- to lead a group to buy a National Basketball Association team for the city of Seattle. But until recently, his day job, running Microsoft Corp., prevented him from being the active NBA owner he likely envisioned.
Time is now on his side -- and money allows him to do this as a solo mission. For $2 billion, the 58-year-old Ballmer hasn't just bought a team. He has purchased a lifestyle -- the opportunity to spend the rest of his days in his beloved basketball world and introduce his three sons to the family business.
Ask yourself: If you were worth about $19 billion (according to the Bloomberg Billionaires Index), would it matter much if you spent $2 billion to feel personally fulfilled? Would you mind allocating a tenth of your net worth to buy a team that already has an arena in the nation's second-largest media market, with an NBA collective-bargaining agreement that leveled the field between players and owners in 2011? Not to mention, that you'd own 1/30th of the next national television deal that will change NBA team economics forever?
Ballmer's victory also is a win for the NBA. The league has been eager to attract owners who treat these teams as seriously as their core businesses, or better yet, are looking for something new to do after a successful career. Ballmer probably will set a new standard for owner involvement as he operates the Clippers like a chief executive officer.
Ballmer also helps the league avoid the Clippers being run in a complicated power-sharing arrangement among several individuals. That is a risky proposition in today's sports world, where teams have been distracted by fights among owners who are used to making the final call. For years, the New Jersey Nets owners were referred to as the Secaucus Seven. More recently, theowners of the Atlanta Hawks spent five years in litigation. Last month's management shakeup at the Memphis Grizzlies probably wasn't helped by its complicated ownership arrangement.
However, today's soaring team prices usually demand the wallets and personalities of several larger-than-life figures to secure the deal. The Clippers have been spared such a fate.
One of the New York Yankees limited partners once said of his predicament that there was nothing as limited as being a limited partner of George Steinbrenner. When you became a Yankees limited partner, you knew the deal: You had no input whatsoever.
Ballmer may decide to take on partners, but they will probably be just as limited as Yankees partners; Ballmer will be as unencumbered as Steinbrenner was. The Clippers are Steve Ballmer's new day job, and for that the NBA should be thankful.
To contact the author on this story:
David Kahn at dbk4@nyu.edu
To contact the editor on this story:
Zara Kessler at zkessler@bloomberg.net
Before it's here, it's on the Bloomberg Terminal.
LEARN MORE