What Is China's Biggest Weakness?
The very thing from which China's Communist Party has derived its strength and legitimacy in the 25 years since Tiananmen -- a booming economy -- is fast becoming its biggest weakness.
by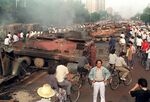 It took China to prove Friedrich Nietzsche wrong. What didn't kill the Communist Party hasn't made it stronger. It's only making the inevitable crash bigger, more spectacular and needlessly dangerous.