NRA Decides Good Guys With Guns Are Weirdos
The NRA concludes that walking into Chipotle with your rifle is "weird."
by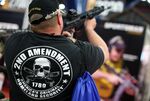 "The only thing that stops a bad guy with a gun is a good guy with a gun," said National Rifle Association chieftain Wayne LaPierre. Unless, apparently, the good guy with a gun is in Texas and obeying the state's open-carry law while hunting down some Mexican food or a cup of joe.