No Messiah Please, We're Ecuadorian
In seeking a constitutional amendment that would allow him to seek unlimited terms, Ecuadorian President Rafael Correa argues that he aims to safeguard national institutions.
by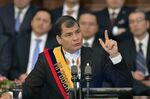 Ecuadorian President Rafael Correa appears to have joined the club of Latin American populists who have trouble relinquishing power. Correa announced over the weekend that he aims to change the constitution so that he -- and any other Ecuadorian public official -- can run for re-election any number of times.