Dave Camp's Good Tax Policy Is Good Politics, Too
Dave Camp's decision to try to make permanent the bonus depreciation provision is a good step in an election year, when comprehensive reform of the tax code isn't possible.
by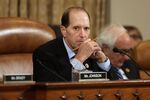 In this election year, it's no surprise that House Ways and Means Committee Chairman Dave Camp's effort to reform the federal tax code has met significant resistance both on Wall Street and in Washington. Although the Michigan Republican remains committed to a fundamental revision of the system, he is now pursuing a different course: making permanent some of the temporary, but pro-growth, elements of the existing code.
One of those changes will be unveiled Thursday, when Camp's panel considers legislation sponsored by Republican Congressman Pat Tiberi of Ohio. The measure would make permanent a provision in the tax code that expired in December. It allows businesses to deduct half of their capital investments in the year they are made -- instead of delaying those deductions over time. Known as bonus depreciation or immediate expensing, this provision has helped fuel the formation and creation of businesses during the tepid economic recovery in the wake of the financial crisis.
Camp's effort to make bonus depreciation a permanent fixture in the tax code (rather than a temporary stimulus measure) is sound policy. For Republicans, it's also sound politics.
Immediate expensing creates a tax preference for new investment, which has flagged in recent years. Data from the Bureau of Economic Analysis show that net private domestic investment, as a share of gross domestic product, still comes nowhere close to matching pre-recession peaks or even the average levels seen since World War II.
My Hoover Institution colleague Ed Lazear has also noted that it has positive benefits for productivity and wages. The Tax Foundation found that permanently extending bonus depreciation "would boost GDP by over 1 percent, the capital stock by 3 percent, wages by about 1 percent, and would create 212,000 jobs." Although many economists prefer a system in which all capital investment -- not just 50 percent -- can be immediately expensed, the bonus depreciation bill being considered by Camp and his colleagues is an improvement over the status quo.
Opponents of a permanent bonus depreciation point to its supposed cost. For example, the Center for a Responsible Federal Budget recently estimated that a permanent extension of bonus depreciation would cost $300 billion over 10 years. Yet those who make this argument -- including CRFB -- generally rely on estimates that fail to account for the economic effects of the policy change. The Tax Foundation concluded that making the measure permanent would generate $23 billion in additional tax revenue each year.
Camp's effort to advance the legislation would also allow Republicans to show that they can govern, and can promote the kind of structural changes needed to create certainty and growth in our economy. Legislative action also would have benefits for Republican candidates in competitive congressional races this year. It demonstrates that their party in Congress can pass legislation that can generate real benefits for many Americans.
Furthermore, unlike other Republican priorities such as efforts to repeal the Affordable Care Act, immediate expensing is a concept that has bipartisan support. President Barack Obama supported the policy as part of his economic stimulus package in 2010, though his current budget contains no mention of the provision. Passage of the legislation would allow House Republicans to force Senate Democrats and Obama to decide whether to block or veto legislation that could aid the economic recovery.
So even though Camp (and many economists) would love to see comprehensive reform of our tax code, permanent policy changes that can boost economic growth and create jobs -- such as bonus depreciation -- aren't a bad consolation prize.
This column does not necessarily reflect the opinion of Bloomberg View's editorial board or Bloomberg LP, its owners and investors.