Putin Wants Business as Usual. So Do Western Businesses.
Speaking to international businessmen, Putin signaled he is done with direct interference in Ukraine. While trying to appear his usual sarcastic self, he was in fact hoping it would soon be business as usual between Russia and the West.
by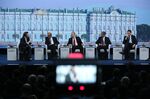 Vladimir Lenin famously lambasted "bourgeois intellectuals" for taking "one step forward and two steps back." Vladimir Putin believes in the opposite formula: Having taken two steps forward in Ukraine, he is now taking a step back.
The Russian president used his speech at the St. Petersburg Economic Forum and the subsequent Q&A to indicate that he's done rattling his saber and ready for business as usual -- that is, as before the Ukrainian crisis -- with the West. Putin's proposal to Western governments and business, not formulated in so many words but easily read between the lines, is that they forget the annexation of Crimea and resume normal economic ties, accepting in exchange his willingness to recognize Sunday's presidential election in Ukraine.
On the surface, this was the same sarcastic, contemptuous Putin who believes the West has wronged Russia and is applying double standards to it.
"Does anyone gain from a disruption in the rhythm of Russia's interaction with the EU?" Putin questioned. "Is it not obvious that economic sanctions as an instrument of political pressure have a boomerang effect in today's interdependent world, ultimately hitting the business and economies of the countries that initiate them?"
Putin said the sanctions had hurt the business of his friends, "a khokhol [a derogatory Russian term for "Ukrainian"] and two Jews", meaning Gennady Timchenko, who is of Ukrainian origin, and the brothers Arkady and Boris Rotenberg, whom he called Russian patriots despite their Finnish second citizenship. The damage wasn't huge, though: according to Putin, the billionaires had transferred their money back to Russia before the sanctions kicked in. And the natural gas deal with China Putin signed in Beijing this week more than compensates any effect the sanctions may have had on Timchenko and the Rotenbergs: They are major contractors for Gazprom, which is expected to spend $55 billion on new infrastructure needed to export gas to China. Putin called it "the biggest construction project in the world." He relished telling his audience about the Chinese contract: This was his first opportunity to tout Russia's reduced dependence on Western export markets.
Though the St. Petersburg forum, once billed as Russia's answer for Davos, was this time marred by high-profile no-shows such as Goldman Sachs chief executive officer Llloyd Blankfein, Alcoa's Klaus Kleinfeld and Siemens' Joe Kaeser, there were plenty of top Western executives to take in Putin's show of confidence in the face of adversity. The chief executives of Royal Dutch Shell, Caterpillar, Eni, Schlumberger, Total, Carlsberg, Danone and Philips all showed up.
"I am glad there are many entrepreneurs from European countries in the audience today who aim to work with Russia," Putin told them. "We value the fact that European business has taken such a pragmatic, mature stand."
The soft lining came in the question-and-answer session. Putin said, albeit with visible reluctance, that he would "respect the will of the Ukrainian people" as expressed in the May 25 election, and that he would work with its victor. Those were the clearest statements he has made on the matter so far, after weeks of calling the election illegitimate.
Putin repeated several times -- and managed to sound almost sincere -- that it was time things calmed down in Ukraine. He only mentioned Crimea once, in passing, as if it barely existed in a corner of his mind.
This is as much of an olive branch as the West can expect from a bitter, defensive Putin. His ministers will now mirror his two steps forward, one step back tactic. Today, they did just that with MasterCard and Visa, assuring them during a meeting that Russia's new law requiring foreign payment systems to deposit billions of dollars with the Russian central bank would be softened and ways would be found for them to keep operating in a country where they service about 90 percent of electronic payments. Both companies announced in response that they would not leave the Russian market.
Other businesses, especially European ones with close ties to Russia, will rejoice at Putin's grudging peace offering. The political unpleasantness in Moscow's relations with the West is not going away anytime soon: Nothing is going to change the fact that Russia annexed part of a neighboring state's territory. Business, however, is business, and now may be the time to buy Russian securities: Putin's partial retreat will be sure to give them a nudge up.

This column does not necessarily reflect the opinion of Bloomberg View's editorial board or Bloomberg LP, its owners and investors.
To contact the author on this story:
Leonid Bershidsky at lbershidsky@bloomberg.net
To contact the editor on this story:
Toby Harshaw at tharshaw@bloomberg.net
Before it's here, it's on the Bloomberg Terminal.
LEARN MORE