How to Turn Homes Back Into Piggy Banks
The demise of a bipartisan plan to reform U.S. housing finance presents an opportunity to do things right.
by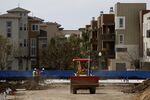 A bipartisan effort to address one of the biggest issues left over from the financial crisis -- what to do with mortgage-finance giants Fannie Mae and Freddie Mac -- appearsto have died in the Senate. Its demise should be seen as an opportunity to reframe the discussion of housing and the role it can play in the creation of wealth for Americans.
Proposed by South Dakota Democrat Tim Johnson and Idaho Republican Mike Crapo, the initiative sought to eliminate Fannie and Freddie and reshuffle the roles of various financial players in the mortgage market. Unfortunately, it largely ignored the reasons the government should focus resources on housing in the first place.
Prior to the most recent bust, housing wealth played a crucial role in the expansion of the middle class. Typically, a family would take out a mortgage and make payments that built equity over time -- a sort of forced savings plan for people who often had no excess income to invest in stocks or bonds.
The savings could be tapped to fund a child's education, create a small business or pay for retirement. The home could also be passed on to one's heirs, building intergenerational wealth. Homeownership supported self-sufficiency and reduced the demands on government social safety-net programs and public-sector pensions.
During the last 20 years, however, the financialization of mortgages made tapping equity easier and gutted the idea of the home as a savings vehicle. Thanks to falling interest rates, tax policies encouraging mortgage debt and the spread of cash-out refinancings, the home became more like an automated teller machine.
As a result, Americans now have little or no financial cushion to help them cope with a weak job market and diminished earning power. Potential first-time buyers, many of whom are saddled with educational and other debts, simply cannot afford a home. Baby boomers are retiring at the rate of 10,000 a day with less home equity than any previous generation.
Clearly, the country's housing policies are due for a rethink. So what to do?
With tax and mortgage-market reform set to become key policy considerations after the midterm elections, Congress should consider the creation of a tax-free "housing personal savings account." Similar to a health savings account or a 529 college savings account, it would allow prospective home buyers or their parents to set aside tax-free money for future housing expenses, such as a down payment on a first home or a first-time rental. Any excess balance in the account should remain available for further savings, and it should be invested in short-term or medium-term bond funds.
Another smart move would be to replace the mortgage interest tax deduction -- which encourages people to take on too much debt and largely benefits wealthy homeowners -- with a progressive "equity principal tax credit." The credit would effectively provide homeowners with money back on their down payments and on the amount of mortgage principal they've paid down each year. A 20 percent down payment, for example, would result in an immediate tax credit of a substantial portion of that payment. The credit would phase out as the borrower's income rises.
Such a program would give first-time buyers an incentive to make larger down payments, which would reduce default risk and hence lower the interest rates on mortgages. The advantage of paying down principal would also reduce demand for longer-term mortgages and remove a big incentive to borrow too much against the value of a home. Perhaps most important, it would ensure that more Americans retired in prosperity without having to rely on the government or underfunded pension plans to make ends meet.
Just these two initiatives could go a long way toward repairing the ladder of upward mobility and reducing the future burden on the government's safety net. If Republicans and Democrats want to demonstrate their allegiance to America's middle class, here's their chance.
This column does not necessarily reflect the opinion of Bloomberg View's editorial board or Bloomberg LP, its owners and investors.