Why Did BNP Wait So Long to Cut a Deal?
Why didn't BNP Paribas settle with the Justice Department years ago, when it would have cost much less?
by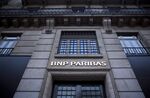 It's sometimes frustrating to read stories in which the parties to a plea bargain or lawsuit do their negotiating and posturing in the news media. The public would be better served if the people feeding these details were on the record, because that way they could be held accountable. But I have no criticism whatsoever for the journalists reporting the information. In this business, if it's news, you have to break it. Or you'll wind up reading it somewhere else first.

The article I have in mind is one today by Bloomberg News, which broke the story that "U.S. authorities are seeking more than $3.5 billion from BNP Paribas SA to resolve federal and state investigations into the lender's dealings with sanctioned countries including Sudan and Iran, according to people familiar with the matter."
I don't know who those people are. But the dollar amount was new information. And I do get the impression from this and other recent articles that the Justice Department is trying very hard to look tough. Last month, Paris-based BNP said the penalties it winds up paying may exceed the $1.1 billion that it has booked for accounting purposes. So now we have a rough idea of how much more the costs might be. On top of that, prosecutors also are seeking a guilty plea from BNP, as they are from Credit Suisse Group AG to resolve a long-running tax investigation. But we already knew that.
It seems that BNP should have been able to settle this probe for much less money a long time ago. Barclays Plc, ING Groep NV and Lloyds Banking Group Plc avoided prosecution for similar offenses by agreeing years ago to pay fines in the hundreds of millions of dollars. HSBC Holdings Plc enabled money-laundering by Mexican drug cartels and had to pay $1.9 billion, but even HSBC didn't have to enter a guilty plea.
I suppose it's possible that BNP's conduct was somehow worse. We should know soon enough when the court papers get filed. Or maybe BNP wasn't sufficiently cooperative and allowed settlement talks to drag on for too long. Whatever the case, it now finds itself in the sights of a Justice Department that has vowed to prove it has the courage to criminally charge a large bank, as long as it's a foreign one.
The markets don't seem terribly worried about the prospect of a guilty plea. BNP has a stock-market value of about $90 billion. And with total assets of about $2.6 trillion, it can afford the fine. But the prospect of a criminal record could still sting. BNP's annual shareholder meeting is tomorrow. The bank's board and management should be ready for some tough questions from shareholders wondering why they took so long.
This column does not necessarily reflect the opinion of Bloomberg View's editorial board or Bloomberg LP, its owners and investors.