Insider Sales That Crashed Twitter Were Years Old
Twitter's collapse last week has more to do with sales made in 2011 than the May expiry of the insider lock-up period.
by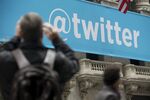 When Twitter shares plummeted a week ago as the lock-up period ended for the company's insiders, it was not immediately clear who was selling, especially since founders Jack Dorsey and Evan Williams, as well as chief executive Dick Costolo, said they wouldn't. Data from Securities and Exchange Commission Form 4 filings, which insiders have to post every time they make a deal, take a few days to surface. Now they have, and an arcane move by what used to be Twitter's biggest outside shareholder may explain what's going on.