Who Is Checking the Numbers at Alibaba?
Who's really doing most of the audit work on Alibaba's numbers?
by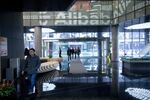 Paul Gillis, a professor at Peking University who writes the China Accounting Blog, made an excellent point over the weekend about Alibaba Group Holding Ltd. that's worth repeating. The company says it is audited by the Hong Kong affiliate of PricewaterhouseCoopers. Gillis is skeptical about that claim, based on some of the information in Alibaba's disclosures.

His suspicions are well-placed. In a registration statement with the Securities and Exchange Commission for its planned initial public offering, Alibaba said that substantially all of its employees are based in mainland China. About 94 percent of its floor space worldwide is at the headquarters for its principal operating businesses in Hangzhou, China.
"While there may be a Hong Kong partner assigned to the account, I will bet dollars to donuts that a large portion of the hours on the audit were done by mainland staff," Gillis wrote. "This raises the question of whether the audit should have been signed by PwC's mainland member firm instead of the Hong Kong member firm." Gillis compared the issue to a Chinese clothing maker sewing "Made in Italy" labels on shirts made in Wenzhou.
Why does this matter to investors? As Gillis wrote, "I have read bloggers who are arguing that investors should trust the Alibaba accounts because the Hong Kong member firm of PwC and not the mainland member firm audited them." To his point, it was only a few years ago that mainland Chinese auditing firms suffered severe reputational hits after a wave of Chinese companies with North American stock listings turned out to be frauds.
What's more, Pricewaterhouse of Hong Kong isn't the same as Pricewaterhouse of China. The big accounting firms don't have parent-subsidiary structures like most corporations do. They operate more like giant membership clubs. Each firm in each country covered by Pricewaterhouse's global network, for instance, is legally independent of each other, even though they share the same brand and are members of the same broad umbrella organization of firms that rely on each other's work and professional-support systems. The U.S. Public Company Accounting Oversight Board has proposedmaking auditors disclose how much of a given audit's work is performed by affiliates in other jurisdictions. But that's a long way from happening. (Gillis is a member of the accounting board's standing advisory group.)
Investors have no way of knowing how much of the audit work was done by the Hong Kong firm or how heavily it relied on the mainland affiliate, PricewaterhouseCoopers Zhong Tian LLP. Investors can't check the integrity of the work done by either affiliate. There is nothing transparent about the accounting profession's boilerplate audit reports, except maybe the proper spelling of the firms' names. Sometimes they have been known to get that wrong, too.
And as I noted in a columnlast week, Alibaba warned that its stock could be de-listed if the SEC affirms an administrative-law judge's decision to suspend the mainland China affiliates of Pricewaterhouse and the other Big Four accounting firms for six months for refusing to comply with SEC subpoenas.
If the suspensions are carried out, "we would need to consider with our Hong Kong based auditor the alternate support arrangements they would need in their audit of our operations in mainland China," Alibaba said. If that proved unsuccessful and Alibaba couldn't find another auditor, the company's financial statements could be deemed invalid under U.S. securities laws.
Since that judge's ruling in January, some news reports have suggested that a workaround for the big firms auditing Chinese companies may be to simply have their Hong Kong affiliates sign off as the principal auditor. That might be fine, if they truly are the ones doing the audit. Pricewaterhouse and Alibaba should do more to explain who really is doing the bulk of the work.

This column does not necessarily reflect the opinion of Bloomberg View's editorial board or Bloomberg LP, its owners and investors.