Don't Judge Latin Men by This Macho Mayor
The mayor of Buenos Aires, Mauricio Macri, recently did a disservice to the image of Latin American men by being, well, himself.
by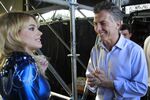 The mayor of Buenos Aires, Mauricio Macri, recently did a disservice to the image of Latin American men by being, well, himself.
Last month Macri told a radio station that women loved getting catcalled. To quote the mayor: "There is nothing nicer than a "piropo" (pick-up line), even if it's accompanied by something offensive. If someone says nice "culo" (rear end) it's all good."
Then last week Macri caused a ruckus when he was photographed ogling the cleavage of 17-year-old Disney Channel actress Martina Stoessel.
In the age of Twitter, the 55-year old mayor may have done more than most to strengthen the stereotype of Latin American machismo popular in the U.S. and Europe. Sadly, many still picture Latin America as a uniquely oppressive place for women, where men can barely keep their hands to themselves.
That is an unfair portrayal of how things work in the Spanish and Portuguese speaking Americas. Women in the region -- especially those of Macri's generation and even older -- have made spectacular achievements in recent decades.
For starters women have thrived in politics and several Latin American countries have had women presidents. Chilean President Michele Bachelet is now in her second term, and so is Cristina Fernandez de Kirchner, the president of Argentina. Dilma Rousseff leads Brazil, presiding over the world's seventh-largest economy. Women have also held the highest office in Nicaragua, Panama, Costa Rica, Guayana and also briefly in Ecuador and Bolivia. That is more than can be said of the U.S., France, Italy, Japan, the Netherlands and any number of other developed nations.
Women in Latin America are also more highly educated than men. Women's educational attainment in the region has surpassed men, a phenomenon that puts Latin America ahead of Africa, Asia and the Middle East, according to a 2012 study by the Inter-American Development Bank. The IDB also reckons that women's participation in the work force has increased as well.
No doubt machismo can be blamed for a persistent gender wage gap and the underrepresention of women in Latin American boardrooms. But women also run top companies, such as Maria das Gracas Foster, chief executive officer of Petrobras, Brazil's national oil company. Plus, men's attitudes in business are changing and a growing number of Latin American companies are working to improve gender diversity, according to a McKinsey & Co. study last year.
Of course, sexual harassment in Latin America is very much alive, as it is in developed nations. In response, several countries such as Mexico, Brazil, Uruguay and Bolivia have enacted laws that often carry tough penalties. In Peru, for example, the law punishes obscene gestures and other forms of sexual advances in public with as much as two years in jail for those found guilty.
Latin American men have no doubt done much to earn their louche reputation. But women have a hand in perpetuating machismo as well. As Chilean writer Isabel Allende said earlier this year, some Latin American female leaders still raise "their sons to be served upon, and their daughters to serve."
More troubling, though, was a recent survey that found that 58.5 percent of Brazilian respondents agreed that ``if women knew how to behave , there would be less rape.'' Most of the poll respondents were women.
Machismo deserves no defense, but Latin American men do and the region's strides in gender equality merit recognition. The fact that a man such as Argentina's Macri can be so classless says nothing about Latin men in general, and shouldn't serve to caricaturize the region.
This column does not necessarily reflect the opinion of Bloomberg View's editorial board or Bloomberg LP, its owners and investors.