The Best Stock Research Money Can Buy
A study shows that: Wall Street stock analysts' research reports are no more reliable than reports that companies pay for themselves.
by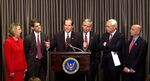 The stereotype about Wall Street stock analysts has been well earned: They rarely say "sell," and their research reports often are compromised by investment-banking relationships or other conflicts of interest.
Now a new academic paper by three accounting professors has gone a step further. The authors studied a sample of 247 stock-research reports that were paid for by the companies being written about. They found the reports were just as reliable as comparable analyst reports issued by conventional brokerages. That's saying something, considering the reputation of paid-for research shops as hired guns, hype artists and pump-and-dump promoters.
"We fail to find significant differences in the quality of paid-for analyst research relative to matched sell-side analyst research in terms of bias, accuracy, or ability to distinguish favorable from unfavorable future performance," wrote Bruce Billings of Florida State University, William Buslepp of Texas Tech University and Ryan Huston of the University of South Florida. "Our results suggest paid-for research offers potential benefits to investors in small- and mid-cap equity markets where sell-side coverage has declined."
The study is in the current issue of the Accounting Review, published by the American Accounting Association.
The professors noted that a lot of small public companies have trouble getting securities analysts to write about them, and that greater visibility can lead to more liquidity for their stocks and a lower cost of capital. You won't catch me extolling the virtues of paid-for stock research, however. The key takeaway I got from the study is that glaring conflicts of interest are no worse than slightly less obvious ones. Either way, it doesn't reflect well upon the general quality of Wall Street analyst research.
One limitation in the study's analysis, which the professors duly noted: About 75 percent of the paid-for stock recommendations and earnings forecasts in the authors' sample came from two firms, J.M. Dutton & Associates and Taglich Brothers. So maybe those firms were doing good work when most paid touts weren't. Beats me. I hadn't heard of them before today, and I'm not about to start buying stocks based on their picks or anyone else's.
One colorful aside: The Securities and Exchange Commission in 2005 fined J.M. Dutton $25,000 for allegedly publishing stock research reports "without fully disclosing that it received compensation from the issuers who were the subjects of the reports." Per the usual ritual, the firm neither admitted nor denied the SEC's claims. Taglich paid $50,000 in 2004 to settle similar SEC claims, also without admitting or denying anything.
Of course, those firms have nothing on Wall Street banks in that department. In 2003, 10 Wall Street banks paid $1.4 billion to settle government claims related to their stock analysts' research reports, some of which the regulators said were fraudulent.
The best advice I've seen on this subject came from an interview that New York Times columnist Gretchen Morgenson gave for a 2002 article in Columbia Journalism Review. She was speaking about journalists, but there's a lesson here for individual investors as well. "Business reporters should probably not quote analysts at all," she said. "If they do quote them, they should at least identify the firm and the firm's relationship to the company that they're talking about."
When it comes to picking stocks, everybody in the business has an angle.
This column does not necessarily reflect the opinion of Bloomberg View's editorial board or Bloomberg LP, its owners and investors.