Treasure Hunting Is the World's Worst Investment
Here's our advice if you ever consider an investment in a treasure-hunting venture: Don't waste your time.
by and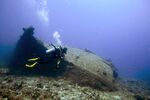 Dreams of undersea riches make treasure hunting a seductive investment. As professional underwater archaeologists, we don't normally comment on the commercial salvage of historical shipwrecks. But in this case, our expert opinion is: Don't waste your money.

The fact is, no major treasure-hunting venture has ever been profitable for investors, according to a series of academic studies. And from an archaeological point of view, there are compelling scientific and legal reasons that investments in treasure hunting won't pay off.
Treasure hunting has recently been in the news. On Monday, Tampa, Florida-based Odyssey Marine Exploration Inc. said that it had recovered gold from the sunken ship SS Central America, with estimates that there may be as much as $86 million in precious metal at the wreck site off the coast of South Carolina.
Investors are typically drawn to salvage ventures by these kinds of estimates. However, analysis of eventual sales of the recovered artifacts shows the projections are always inflated and never realized.
When Mel Fisher found the wreck of the Atocha, a 17th-century Spanish galleon that sank off the Florida Keys, he estimated that the cargo was worth $400 million. Sales of recovered artifacts suggest a value of $13 million to $24 million, or no more than 6 percent of the original estimate. Over the years, Odyssey has projected a total of $3 billion for its various projects, but to date it has recovered only 2 percent of that amount.
High operating expenses ultimately make treasure hunting unprofitable. Of the six largest salvage projects, all but the Atocha definitively lost money despite multimillion-dollar cargoes, according to a 2013 report. (It is debatable whether the Atocha venture was actually profitable and the data haven't been disclosed.) Shares of the eight public treasure-hunting companies trade at pennies, except for Odyssey.
The news media often touts billion-dollar figures when a new wreck is found. Records of what was actually on the ships often directly contradict the inflated estimates.
There are other problems with monetizing shipwrecks. Although coins can be worth many times their melt value, collector prices can drop quickly. One coin is rare, but 50,000 are a flooded market. Of the 51,600 coins Odyssey recovered from one wreck, 25,000 remain unsold a decade later.
The market value for other artifacts is negligible, meaning precious metals and porcelain are the only items of significant worth for treasure hunters. Even including income from best-selling books, museum exhibits and documentaries, treasure-hunting companies fail to turn a profit.
Treasure hunting may soon become even harder. The 2001 Unesco Convention affords protection to shipwrecks older than 100 years. Mozambique and the Bahamas, two traditional hunting grounds, recently froze salvage projects, citing the convention in their moratoriums. According to the Bahamas' Tribune, 18 treasure-hunting companies have been waiting, some since April 2012, for permits to be reinstated.
Additionally, the U.S. Navy plans to redefine the Sunken Military Craft Act to include everything from historic galleons to Merchant Marine vessels from World War I and II. That may be the biggest blow to the treasure-hunting industry. The change would "make it practically impossible to salvage those vessels," Kim Fisher, chief executive officer of Mel Fisher Family Enterprises, told the Florida Keys News. Last week, the U.K. navy followed suit and declared that all sunken Royal Navy ships worldwide are now protected by sovereign immunity.
Though treasure hunting almost always generates losses, research suggests people invest because they are ill-informed and unaware of these obstacles. Contrast this with mineral-extraction companies -- experts in deepwater operations -- none of which are tempted by shipwrecks. What's more, wreck discoveries peaked in 1975 and have declined ever since, suggesting treasure hunting is unlikely to be feasible as a long-term business.
In 1990's "The World's Worst Investment: The Economics of Treasure Hunting With Real-Life Comparisons," Peter Throckmorton crunched the numbers of major salvage projects and found that "investment in the salvage industry only benefits promoters and lawyers." Almost 25 years later, the evidence suggests that the only place treasure is found is in the bank accounts of these people, not in the sea.

(Peter B. Campbell is the archaeological director for the Albanian Center for Marine Research. Rodrigo Pacheco-Ruiz is a maritime archaeologist. Both are doctoral candidates in maritime archaeology at the University of Southampton in the U.K.)

To contact the authors of this article: Peter B. Campbell at peterbcampbell@gmail.com and Rodrigo Pacheco-ruiz at r.pacheco-ruiz@soton.ac.uk.

To contact the author responsible for this article: James Greiff at jgreiff@bloomberg.net.
This column does not necessarily reflect the opinion of Bloomberg View's editorial board or Bloomberg LP, its owners and investors.