Re-Made in the U.S.A.
U.S. consumers might be losing their taste for imported goods. This could have big implications for the whole world. 
by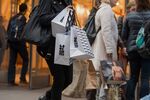 An odd thing is happening in the U.S. economy: Consumers appear to be losing their taste for imported goods. It's a change that, if sustained, could have big implications for global trade, the dollar and the effects of the Federal Reserve's policies.
Domestic economic activity and imports in the U.S. tend to have a predictable relationship: When the economy grows, imports tend to grow twice as fast. For consumer spending, the relationship is even more extreme. A 1 percent growth rate of consumer spending, for example, is typically associated with nearly a 3 percent growth rate of spending on imports of consumer goods. This relationship has held pretty much constant since economists Hendrik Houthakker and Stephen Magee discovered it in the 1960s.
Lately, though, the Houthakker-Magee effect seems to be breaking down. In the first three months of this year, consumer spending grew at an annualized, inflation-adjusted rate of 3 percent. Imports of consumer goods, by contrast, declined at a 5 percent rate. This is more than a fleeting aberration: From 2011 through the first quarter of 2014, imports of consumer goods have grown at less than half the rate of corresponding measures of domestic spending: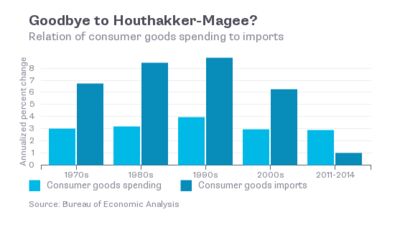 What's going on? There are various possible explanations. Perhaps the gains of the recovery are going disproportionately to wealthier people, who aren't big consumers of inexpensive goods from China. Perhaps more spending is staying at home because manufacturers are moving facilities back to the U.S.
Whatever the drivers, the impact on global markets could be significant: The U.S. tendency to import more than it exports has been behind some of the most important trends of the past few decades. For one, it has allowed growth in the U.S. to give an outsized boost to growth in the rest of the world. It also engendered vast trade imbalances, which motivated big exporters such as China to build up large central-bank reserves in their efforts to maintain favorable exchange rates. Those reserves were invested largely in U.S. Treasuries and other dollar-denominated securities, a capital flow that put downward pressure on interest rates and helped fuel the credit boom that precipitated the 2008 financial crisis.
If the relationship between spending and imports no longer holds, a more robust U.S. recovery won't necessarily revive the big trade deficits of the 1990s and 2000s. That could underpin a relatively stronger dollar and alleviate concerns about global imbalances. But it could also complicate the Fed's plan to gradually free up longer-term interest rates by exiting its extraordinary bond-buying program, known as quantitative easing. With less capital flowing into Treasuries from foreign central banks, interest rates could rise more quickly than the Fed expects.
Also, the rest of the world won't gain as much from U.S. growth as it has in the past. This gives further ammunition to central bankers in the developing world who have criticizedthe Fed for precipitating last year's gyrations in emerging-market stocks and currencies. If there isn't a big enough global growth dividend from a robust U.S. economy, the financial costs of the Fed's return to a more normal monetary policy will weigh further on global prospects.
The disappearance of the Houthakker-Magee effect, if it persists, offers further evidence that the financial crisis has changed the way the U.S. and global economies work. Policy makers should be prepared for the consequences.
This column does not necessarily reflect the opinion of Bloomberg View's editorial board or Bloomberg LP, its owners and investors.