I Have No Idea Why Twitter's Stock Crashed
Why did Twitter's stock plunge today? Did it have something to do with the lockup period? I have no idea, and neither does anyone else.
by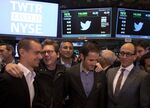 Does anybody really know why Twitter Inc.'s stock price fell 18 percent today? I, for one, do not.